There is a very good house reef directly in front of the dive centre. Even if you are an experienced diver, you will always encounter something new on each dive, no matter how many times you dive here – it is a paradise for underwater photographers as well!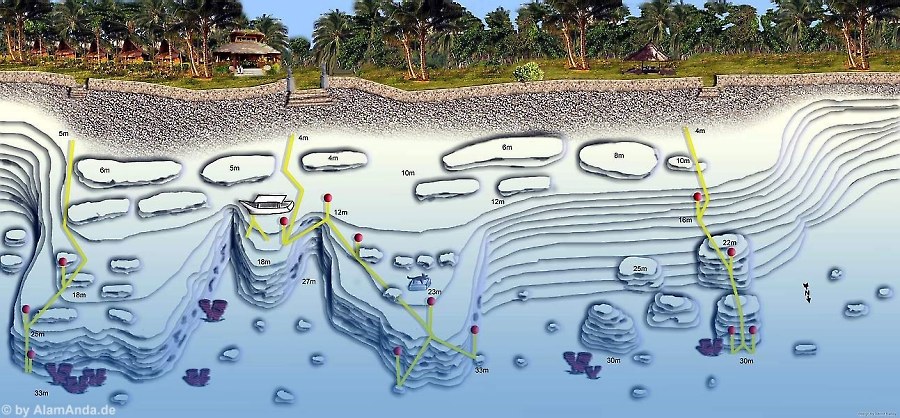 On the house reef we offer 3 different entry and exit points on the house reef. Our guests do not carry any tanks to or from these Points, as the well known Werner Lau tank service is offered here too, at all dive centres. The reef covers the total wide of the hotel grounds, and is a designated conservation area – the first of its kind in Bali. The government agreed to this as an experiment and the fishermen in this area are banned from using nets, cyanide or harpoons. The underwater world here is therefore intact. There is a shallow area, maximal 6 m deep, which goes out to about 50 m from the beach, and in calm sea this makes a great snorkelling area. After that, the bottom drops away at approx. 45° to greater depths. This intact reef is alternately made up of standing blocks of corals, small drop-offs, coral plateaus and complete reef walls overgrown with various kinds of soft and hard corals, gorgonias and sponges.
The sandy areas in between invite you to linger and are ideal for macro photographers and beginners alike. There is a splendid diversity of tropical fauna which includes blue spotted rays, leaf fish, moray eels, lion fish, Long nose hawk fish, ghost pipefish, pygmy seahorses, shrimp and several types of sea slugs. Numerous shoals of fish such as barracuda, and batfish and a family of napoleon fish inhabit the house reef. Sometimes we even see turtles, passing eagle rays and during the night dives, spanish dancers. Strong currents are rare and the water temperature varies according to the time of year between 27° and 29°C.