Location & Facilities
The Werner Lau dive centre is situated at the Alam Anda Ocean Front Resorts & Spa in Sambirenteng/Tulamben. The dive centre is 50 m from the beach and is well equipped – as are all Werner-Lau-dive centres – to cater for the special requirements of divers.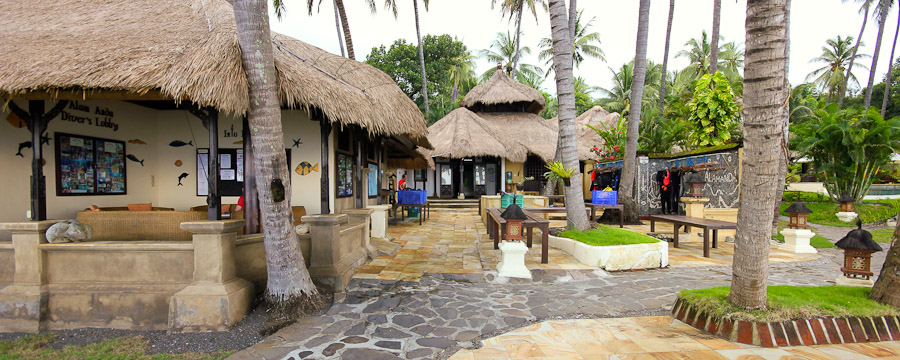 In order to meet all demands, there is always enough equipment available for hire. e.g.:
30 BCD jackets
20 regulators with octopus, depth gauge and inflator
30 sets comprising of mask, fins and snorkel
60 wetsuits (3 mm shorties and long suits)
20 dive computers
10 underwater torches
2 digital underwater cameras
To ensure that everything runs smoothly we have 120 aluminium tanks (12 litre, DIN + INT) available. Also there are some 6, 10 and 15 liter tanks available. The tanks are filled from a Bauer compressor.
Privately owned equipment
Both privately owned and hired equipment are kept in the dive centre and will be loaded onto the boats or cars by members of our staff, who at the end of the trip will also bring the equipment back, rinse everything in fresh water and store it in the dive centre. With this all round service the guest have more time to relax.
Workshop
A well equipped workshop is also available for use by the guests if needed. The members of our staff are always ready to give advice or lend a helping hand.
Tank Service
A 50c service charge per dive is included in the bill. This service charge is equally divided at the end of each month amongst all employees, to ensure that for example, those responsible for filling the tanks, can also benefit.
Safety
The boats and cars are equipped with Oxygen, an emergency first aid kit and a mobile phone. A doctor specialised in diving medicine and who supervises the decompression chamber is based in Denpasar (Sanglah General Hospital, Diponegoro Street).