Situated in the north-western part of Bali, in an area still unspoilt by tourism, the Matahari Beach Resort & Spa is located directly on a fine black sandy lava beach in Pemuteran.

To the north, hotel guests can enjoy a spectacular view of the Java Sea, especially at sunrise and sunset. South of the resort, bizarre mountain structures rise into the sky and build the natural entrance to Bali's National Park.
Balinese Category : 5 star
Built in typical Balinese style and very exclusive.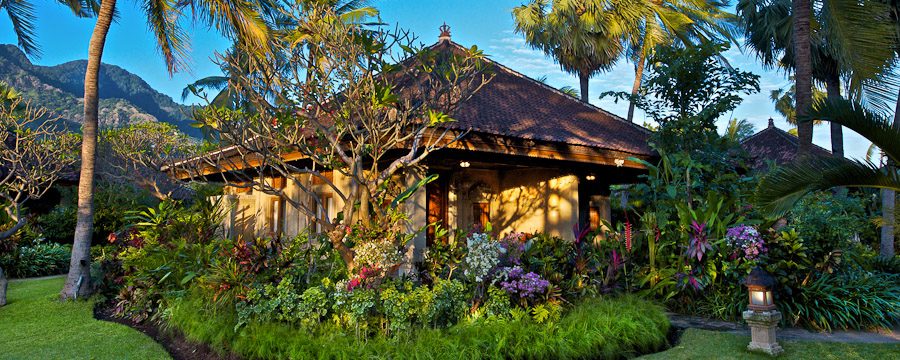 The Matahari Beach Resort & Spa was built in traditional Balinese style. For the construction of the resort, which is harmoniously integrated into the beautiful countryside, only local materials such as sandstone, marble, wood and bamboo were used.
Local craftsmen and artists have created a unique resort from this special combination of materials. Many affectionate details in the stone carvings are waiting to be discovered.
The rooms are divided into four categories: Garden View, Panorama View, Deluxe and Super Deluxe. Each bungalow has two units and separate marble terraces.
The bungalows vary in size, location and amenities.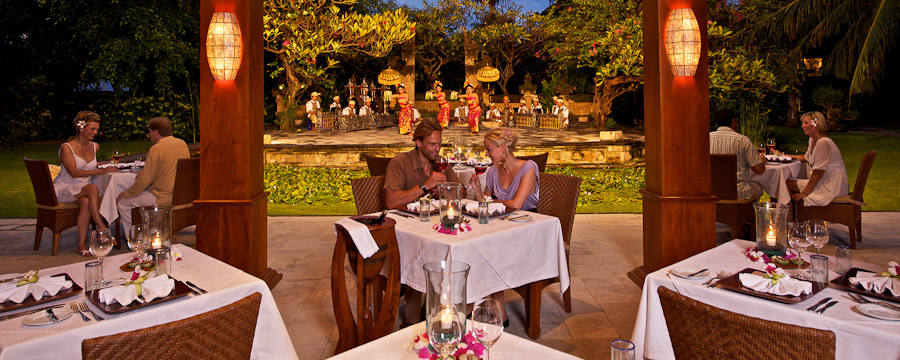 The hotel's motto is: "Our guests are connoisseurs and like to be pampered in many ways: cultural, culinary and, in our wellness area, physically."
Transfer
Our holiday starts with one of the hotel's air conditioned limousines. The three hour drive through the small villages and the fascinating landscape offers an ideal opportunity to receive a first impression of the cultural and scenic diversity the island has to offer.
General Information
Respect for tradition. The Matahari Beach Resort & Spa is a strong supporter of soft tourism. The construction of the resort reflects a variety of local traditions and customs. The hotel also wishes to allow the guests the chance to experience the Balinese culture. Sightseeing trips organised by the hotel are individually planned according to the guest's wishes. Whether visiting places of cultural interest or simply going shopping. All trips take the local customs and traditions into consideration, especially when visiting temples or watching religious processions.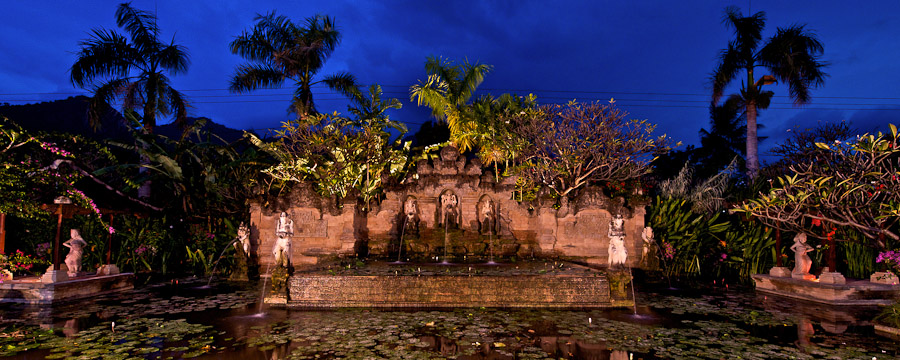 Another special feature offered by the Hotel, is the opportunity for the guests to learn traditional craftsmanship such as woodcarving, sculpture and painting in small shady pavilions directly on our premises.
Credit cards: Eurocard/Mastercard, Visa and American Express.