For our whole-day-trips we use spacious, modern Zodiacs equipped for diving. The boats leave from the beach directly in front of the dive centre.
The boat trips start – depending on the distance to the dive site – at 08:30am or 09:00am, respectively. All local dive sites are within 30 minutes with our boats departing direct from the beach at the dive centre. Next to the highlight of the Zenobia, we have the Cap Greco National Park with a driving time by car of 1.5 hours and north Cyprus with 2 hours driving.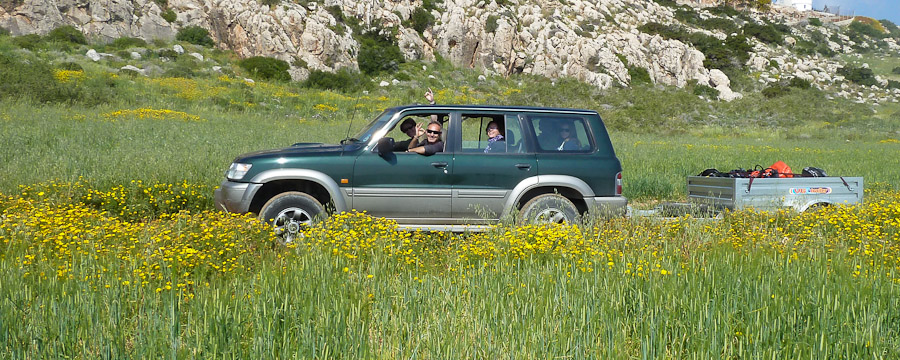 However, the absolute highlight for divers is the wreck of Zenobia, a Swedish cargo ship with an impressive length of 176 metres. In 1980, the fully laden ship sank on its maiden voyage to Syria, 1400 metres in front of the harbour of Larnaca. Zenobia is the biggest shipwreck in the Mediterranean Sea and is one of the world`s top ten shipwrecks which can be dived.
New are the wrecks of the Contantidis and the Lady Thetis.
Both wrecks were sunk on 22.02.2014 in order to become artificial reefs and diving attractions off the coast of Limassol close to Dasoudi.
The Constandis was built as a fishing boat in the USSR in 1989. It is 29 meters long and lies in an upright position in a maximum depth of 25 meters.
The Lady Thetis was built as an excursion boat in Germany in 1953. It is about 31 meters long and also standing in an upright position at a maximum depth of 18 meters.
Safety
Our dive boats are equipped with oxygen and first aid kit as well as a radio. The nearest decompression chamber is located in Larnaca which is about 25 kilometres away.
Day-trip to North Cyprus
The day trip to North Cyprus constitutes a real change from the south also for non-divers. The trip to North starts 7:00am. By 9:00am we reach the green slopes along the steep coast, which welcomes you with some spectacular sights and stunning views. The narrow band between the sea and the chain of the Pentadaktylos Mountains is a mere 5km stretch. Within this band flourishes a rich nature with dark green forests and lush fields. White beaches and clear water are inviting you for swimming and snorkelling.
After a relaxing day on the beach and the return of the divers, we continue our journey into the old Venetian harbour of Kerynia. Surrounded by carefully restored Ottoman houses we take our lunch directly atop the harbour wall, which is included in the price. Following the refreshment, we`ll venture the old town of Kerynia for shopping and sightseeing within this fundamentally different culture of North Cyprus. Around 16:45pm we meet again at the parking slot before to travel back to Aldiana to be punctual for dinner at about 19:00pm.Hop in, adventure is waiting!