For the first time & exclusively the Sheena will be offering charters in the southern Maldives. The tours starting every Sunday leaving from Filitheyo. We will be diving untouched & unexplored reefs and channels in the Nilandhe-, Meemu-, Laamu- and Thaa Atolls in the Southern Maldives.
Filitheyo is perfect for the combination of a diving holiday and a diving safari.
On request, alternate routes travelling to Felidhoo Atoll (hammerhead sharks) and South Ari Atoll (whalesharks) are also available.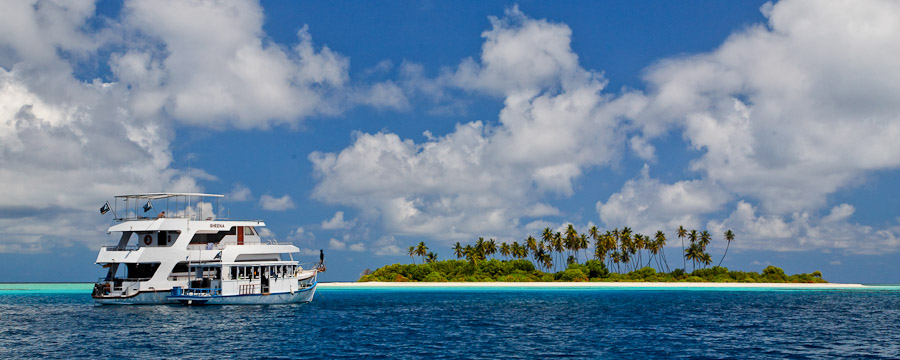 The tours will include diving well known, top dive sites in the respective atolls as well as feature an element of "expedition", diving to charter unknown diving regions.
The chance to dive with mantas or whalesharks with a little luck are good in the Meemu Atoll. We are also certain that within a short period of time we will discover more and more truly spectacular and untouched diving sites together.
Group and full charter tours can be arranged on request as well as 14 day tours.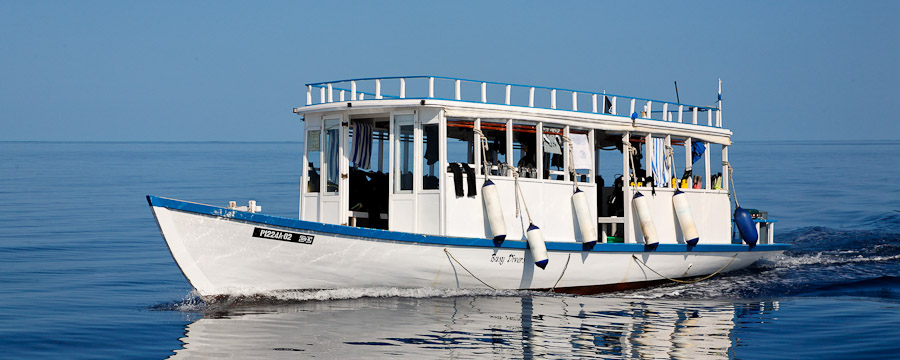 The Sheena will be accompanied by a diving dhoni with a capacity of transporting 18 divers. The guests' diving equipment will be permanently stored on the dhoni, as this is from where all diving will take place. It is also possible to rent equipment from our fully equipped "island diving center" on Filitheyo from where all tours will start. However, guests should bring the main spare parts for their equipment themselves, due to a limited supply on the vessel.
As in all Werner Lau dive centres now also the Sheena provides NITROX on board (Subject to modification in case of technical problems).
A Nitrox certification and a Nitrox diving computer are required due to the diving profiles on the safari. If you do not have a Nitrox certification, a Nitrox course has to be completed on MY Sheena (180,00 USD – to be paid in cash in US$ on Sheena).
Up to three dives are scheduled per day, and night dives, 1-2 a week.
Our experienced diving instructors will offer all you could wish for from a diving safari. As is customary in the Maldives most of the dives will be drift dives.
Planning the route and diving schedule will be based on your requests. Dives will generally be with the current, and we will be collected by the dhoni wherever we surface. There will be also dives requiring a negative entry (fast descent), and for a short distance, swimming against the current in order to reach a particularly interesting part of the reef. Classic Maldivian diving at it's best! To participate in a diving safari on the Sheena, each diver is required to show proof of at least 60 logged dives, and if possible, be in possession of an advanced diving license from an internationally recognized diving organization (eg. CMAS 2*, SSI advanced open water/advanced adventurer, PADI advanced or equivalent).
The official diving regulations in the Maldives allow a maximum depth limit of 30m. All other diving regulations are standard for international diving associations. Above all else, we abide by our Number 1 rule of diving: UOCS – the use of common sense.
Please note: It is compulsory for each diver to wear a computer, to be in possession of a surface marker buoy, an alternate air source and for the night dives per diver one torch as well as a strobe light per buddy team. All equipment needed can be rent at our dive center in Filitheyo.
Pure oxygen, which is essential for the treatment of diving related injuries, is available on every boat. In addition, the dive centre has a small pharmacy, which has a supply of assorted medication and emergency medical equipment, which is at the guests' disposal upon request. If required, the nearest decompression chamber is located in Bandos and can be reached by seaplane within 45 and 60 min (depending on the loocation of the Sheena).