The MY Sheena is an authentic Maldivian diving safari vessel under our management. Comfortably furnished, it fulfils every divers wish. Our diving center managers on Filitheyo are responsible for the management of the vessel. They and their crew of experienced and highly motivated instructors will be happy to show you diving in the Maldives at its best.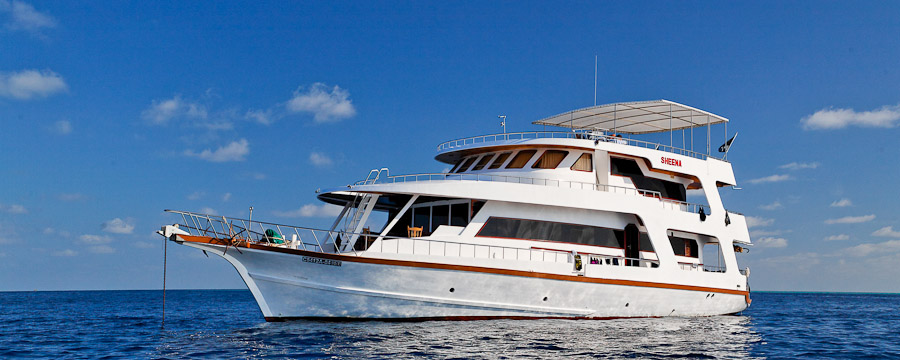 This comfortable vessel under our management will be two times a year renovated and modernized. The MY Sheena has a spacious salon, as well as several decks offering either shade or exposure to the sun (in total there are 4 shaded decks: in front of the salon, behind the salon at the stern and behind the cabins on the upper deck, all of which are furnished with sun loungers and mats. In addition to the main sun deck, there is also a second sun deck located in front of the wheel house with a comfortable relaxation area.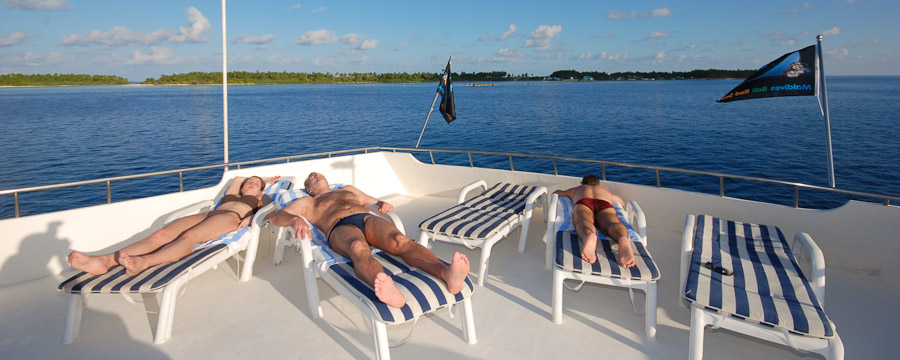 The MY Sheena starts every Sunday from Filitheyo. The transfer from the international airport in Male is done through TMA (Trans Maldivian Airways) and takes about 40 minutes. Exceptions are the 10-day tours.
Pure oxygen, which is essential for the treatment of diving related injuries, is available on every boat. In addition, the dive centre has a small pharmacy, which has a supply of assorted medication and emergency medical equipment, which is at the guests' disposal upon request. If required, the nearest decompression chamber is located in Bandos and can be reached by seaplane within 45 and 60 min (depending on the loocation of the Sheena).
A dive Safari with the MY Sheena could be a great combination with an island vacation on Filitheyo.
Please note that all local payments (drinks, equipment, etc.) on MY Sheena are only possible in cash (USD).
The average tip amount per guest per week is $ 100 for the crew and $ 100 per week for the guides.