Diving at the Red Sea, Egypt
The Red Sea is only a four hour flight away from Europe. World-class diving awaits you in Marsa Alam or Sharm el Sheikh. Swimming and snorkelling are also a must while you are in Egypt. The Sinai Reefs, for example the Straits of Tiran, Ras Mohammed, Ras Umm Sid, or the reefs of Marsa Alam, ie. Abu Dabbab, Elphinstone and Dolphin House, are amongst the world's best dive sites. Everything is available here – sightings of big fish (all kinds of sharks, mantas, dolphins and many more), great reef formations and an enormous diversity of hard and soft corals.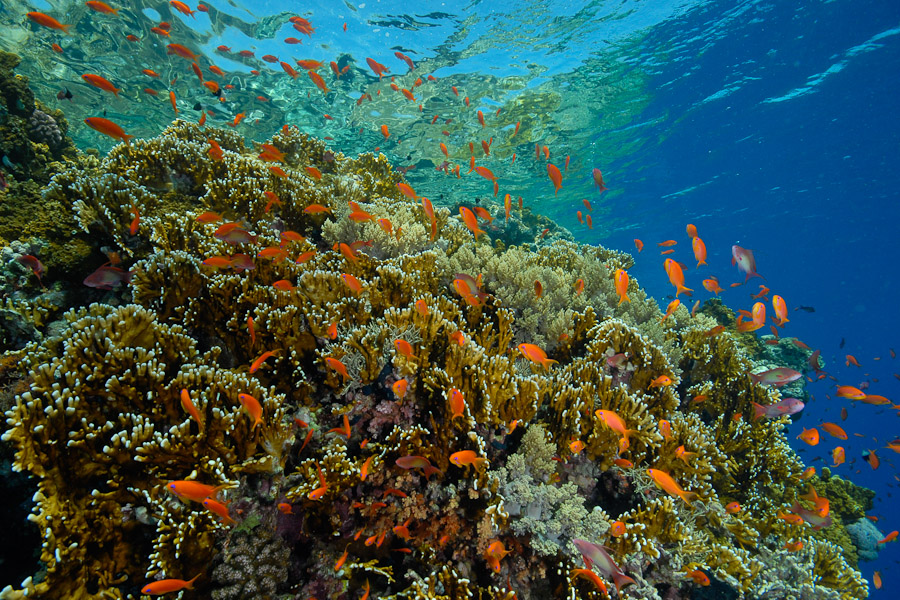 Enjoy the best time of the year at one of our diving centres. Dive courses, sport diving, technical diving (Tec Diving), rebreather, TDI, nitrox (for free)… everything is possible here, either from the shore along our house reef or from a boat.
Sinai: Our dive centre is located at the Helnan Marina Hotel (Naama Bay) in the heart of Sharm el Sheikh, Red Sea, Egypt.
Marsa Alam: Our divers' hotel, The Oasis, which is located at the spacious beach north of Marsa Alam, offers small, comfortable and charming accommodation, which is perfect for divers and guests looking for tranquility. The resort captivates by it's unique architectural style, it's informal atmosphere and absolutely peaceful settings.
Experience the splendour of the Red Sea! Let one of our dive centres introduce you to the diversity of the underwater world. The magnificent marine life of the Red Sea provides unforgettable diving experiences.
Sport activities in the city of Sharm el Sheikh, in the Sinai or in Marsa Alam, on the East coast are extensive: a water sports paradise perfect for jet skiing, water skiing, sailing, surfing and diving.
Our Diving Centers in Egypt: