Back
Update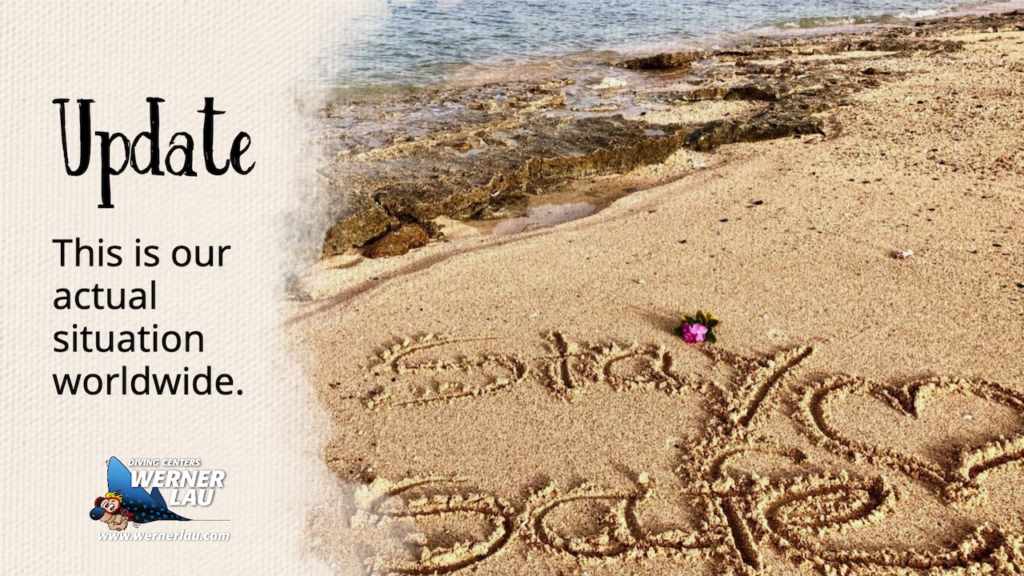 Hi everyone!
This is our actual situation worldwide.
Fuerteventura – we have closed our dive center, the club will most likely be closed within the next few days. In Fuerteventura there is a curfew and the same recommendations as everywhere else in the world: keep your distance, wash your hands, as little contact as possible. Our team is currently still on site – Sylvie and Basti are on holiday themselves and are stuck on a self-catering farm in Costa Rica.
Cyprus – both the club and the diving center are closed. Andrea and Valantis are well and will continue to report.

Maldives:
Bathala – The island and the dive center are currently closed. All guests have left. There are currently about 50 employees on site, the entertainment as well as Dani, Miro and Tofail. Everybody gets along well and is taken care of. There are definitely worse places to be at the moment.
Medhufushi – The island and the diving base are still open at the moment. As soon as the last guest has left, this place will be closed as well. Evelyn and team have decided to stay there for the time being. The supply is secured. Also here everybody is fine!
Filitheyo – Today there are 89 guests on site – it is not clear when the last departure will be. Otherwise the situation is like on Medhufushi. Mika and Béné are holding the fort. Who will leave or stay will be decided in the next days.
Sheena – Our liveaboard is with currently 5 guests waiting in Male. 2 guests should fly tomorrow, 2 on Sunday and the last guest on Monday. After that the Sheena will head home to the south and then, after 14 days of precautionary quarantine, probably to the home port of our Captain Harish.
Egypt:
Sharm el Sheikh – our dive centre is closed. Darja, Yassir and Ali will remain on site and take care of the safety of the diving center. Our partners Rolf and Petra are still in the Dominican Republic and hopefully can travel to Germany in three days. When they can enter Egypt again is uncertain.
Marsa Alam – there are currently only very few guests on site. Peter and Eva, Kazo and Sophie are taking care of everything and are also holding the fort here. Eva is already busy at the job and will keep you up to date. The atmosphere is good!
Bali:
Our hotels are currently about 30% full. At the moment we assume that we will close the Siddhartha and the Alam Anda temporarily. Stefan and Chantal as well as Mateja and Tobi are on site and are looking after the right things. Barbara is in Germany and is assisting from there. The dive center in Pondok Sari is already closed. Ines and Düde are in Oman and are currently not able to leave.
Head office:
Our head office is operating as usual from its home office. The flood of cancellations, rebookings and inquiries is enormous. We are in close contact with our organizers and ensure that we get all guests home from their destinations.
We are experiencing a lot of understanding from our customers and colleagues, but also a lack of incomprehension and panic. We appeal to everyone: Especially in this situation we have to pull together and keep a sense of respect.
Lilly and Werner are also in their home office in Switzerland and work "around the clock" … in fact they still have a packet of toilet paper at home …. (😉 this is not a call for donations 😉)
Dear people remain level-headed during this time, treat each other decently and respectfully. Be patient and follow the rules in this situation, stay at home and stay healthy. We will continue to report on all media channels.
Werner Lau