Back
MY Sheena Logbook – 10.11. – 17.11.2019
On this trip we got 8 guests on board, there where 4 Swiss and 4 Germans. Six of them have never been on a Safari boat and the other two been really experienced.
The group is very diverse, but everybody got very well along with each other.
During the trip the guest had the option for more challenging dives and easy options. After two days everybody was used to the water and we could start doing proper dives.
It was an awesome trip including manta rays, sharks, eagle rays, a great night dive, lots of fish and much more ….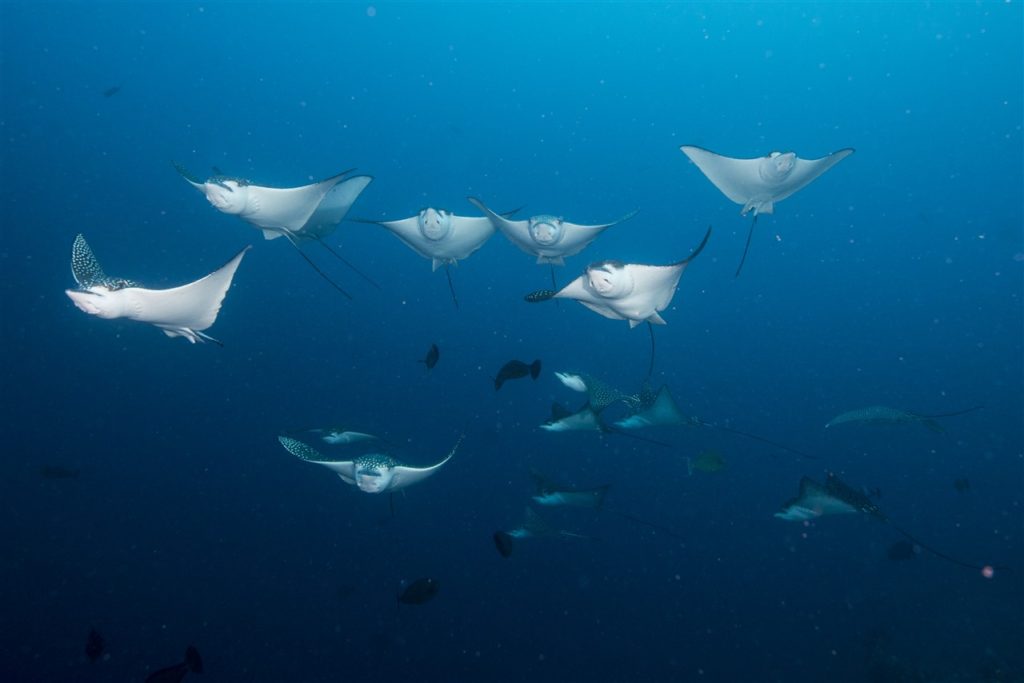 Dive spots:
10.11.19 Check dive Dolphins Faru
11.11.19 Seven Stingrays / Western Highlight / White tip Station
12.11.19 Happy Corner / Rackedhoo Kandu / 13 Eaglerays
13.11.19 Just like the old times / Fulidhoo Caves Alimatha night dive
14.11.19 Uthuru Kandu / Bodu Myaru Kandu / Uthuru Kandu
15.11.19 Golden Wall / Fottheyo / Western Highlight
16.11.19 Happy Corner / Kingdom of fish.
We did the check dive close to Filitheyo at Dolphins Faru before we went to Meemu Atoll. At Western Highlight we had an outgoing current, but it was still amazing hanging at the split point surrounded by eagle rays for about 20 minutes. After a while we decided to fly over to the Thila
The next dive we show our guest a massive cave a white tip station which is surrounded by sharks and barracudas.
Happy Corner has been like always – sharktastic and full of fish. This spot is really one of the best spots on a Sheena tour.
We headed up direction north, where we have some great channels. The first one we dived was 13 Eagle Rays. At the deep creack we spotted a school of Humback Parrot fisches, the crack itself it's monumentally.
At Just like old times we did a fantastic channel crossing through a school of red snappers. We saw plenty of shark and at the end we found a bow mouth guitar fish at the sand. These creatures are very rare to find.
For night diving we headed over to Alimatha.. Another highlight! As always, we had a massive amount of nurse sharks and stingrays during the whole dive.
The next day, when we went to Miaru Kandu. This channel is next to Alimatha and we've been lucky and got to see at least 15 manta rays on the surface and we got the chance to snorkel with them. What an adventure!
After we finished the reefs with many sharks around Alimatha, we needed to spice up our dives again and went the beautiful reefs of Fottheyo and Golden Wall. We had everything there, nice corals, overhangs, lots of fish, small and big stuff as well sharks' barracudas and much more.
Friday, we went again to Western Highlight. It has been a great last dive, again with eagle rays at the split point.
Later, we had a delicious barbecue on an inhabited small island.
Last day we are about to head back to Happy Corner for more sharks. The last dive of tour we did at the richest coral reef in Meemu Atoll called Kingdom of Fish. What to says the name says already everything: we had loads of fish, plenty of beautiful corals and on top of everything plenty of eagle rays.
A perfect tour comes to an end and we are looking forward to welcome everybody back on MY Sheena.