Back
Exhibition Boot 2019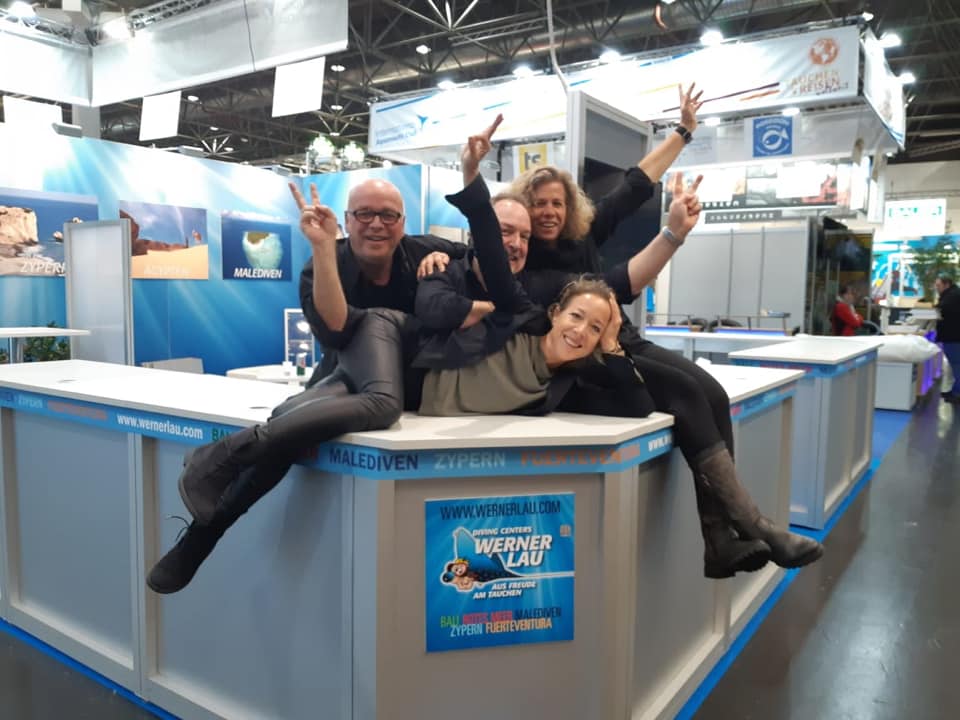 Day 9
WE MADE IT! We are finished, have packed everything up again, the stand builder is probably still having fun with the stand and we are all on our way home or have already arrived.
BOOT 2019 is over, but not our exhibition specials. They can still be booked until 01 February 2019.
We had a lot of fun with you and hope that we could give you some ideas for your diving holiday. If you have any questions please don't hesitate to call us or send us an email.
The next fairs are in preparation – we are looking forward to the ITB and the InterDive in Friedrichshafen.
Many thanks
Werner Lau and the entire team
Day 8
The last fair weekend just started and the hall is already full! Come by today and tomorrow and let us advise you. Come by today and tomorrow and get your free calendar. There are not many calendars left.
Remember: 30% on the accommodation prices in Alam Anda, Siddhartha and Oasis for different travel periods and 30% on different tours with the MY Sheena. Also many other offers, not only with us.
Come by – we are looking forward to seeing you!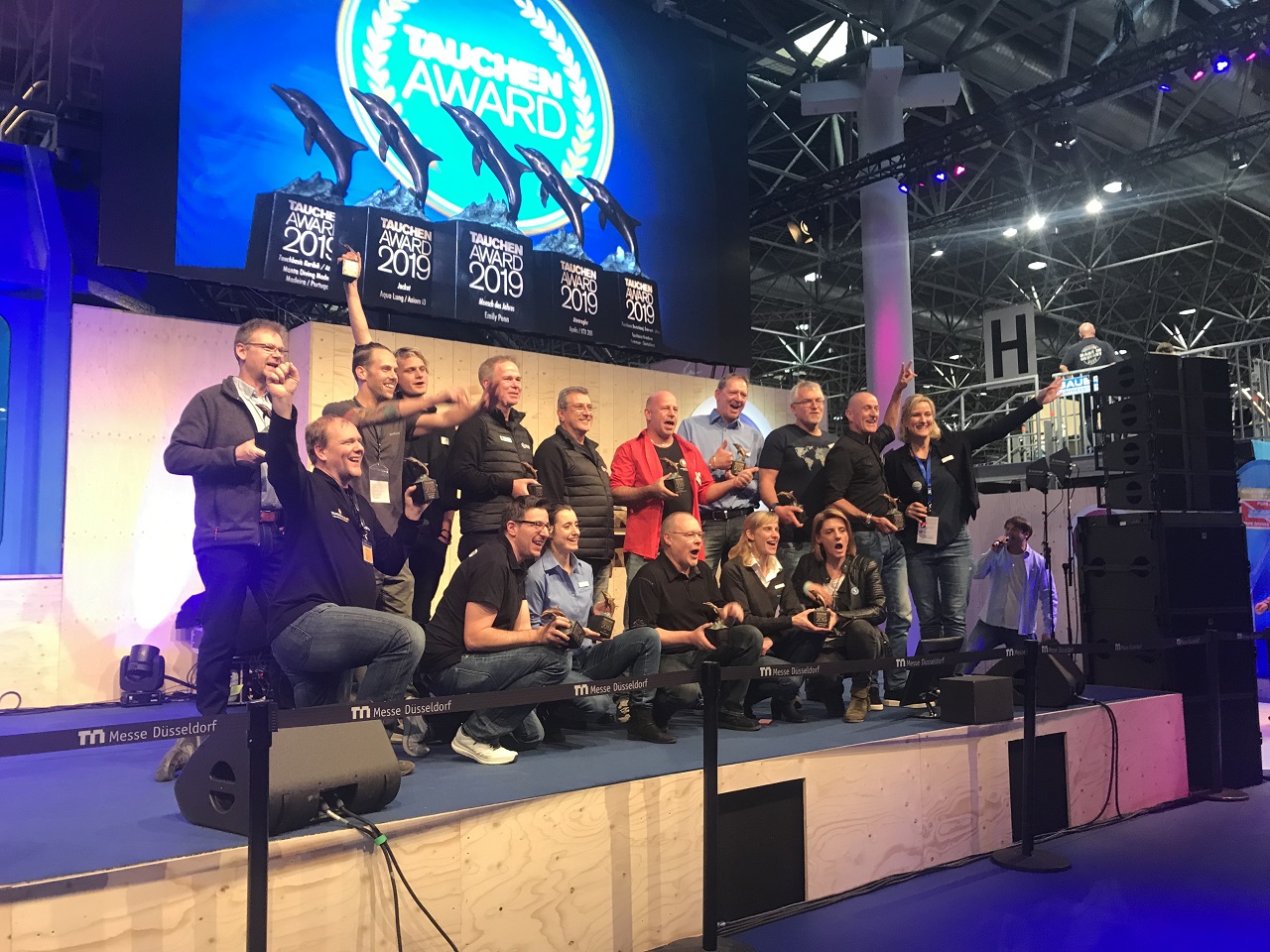 TAUCHEN Award
Yesterday one of the main evening events of the fair took place again. The Tauchen Award – in a total of 13 categories we were nominated with 4 of our diving centers:
Category: best diving center in the Mediterranean Sea
Here we were nominated with our diving center in the Aldiana on Cyprus
Category: best diving center in the Indo Pacific
Here the readers of the magazine were nominated with our diving center in Alam Anda in Bali.
Category: best diving center in the Atlantic/Caribbean
Here we were also nominated with our diving center at the Aldiana on Fuerteventura.
Category: best diving center on the Maldives
Nominated and won here was our diving center on Filitheyo in North Nilandhe Atoll.
Respect and many, many thanks to all guests and friends who voted for us. Without you we certainly would not have been able to achieve this success.
But even more we have to thank our local teams. Our base leaders and diving instructors at the Werner Lau diving centers worldwide are doing a really good job and have more than earned this award. Well done and thank you!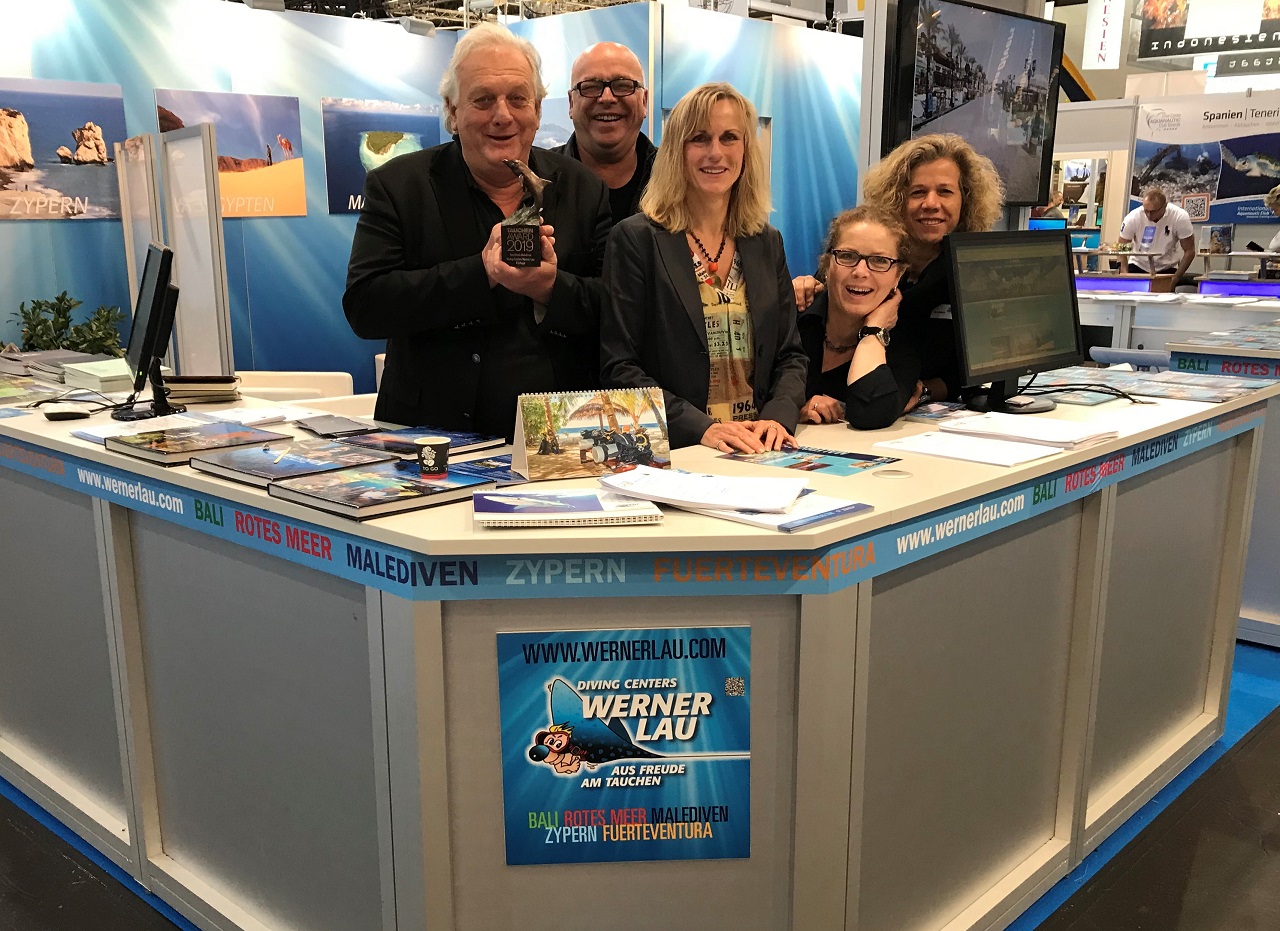 Maldives competition
Again as a reminder for everyone!
Win with schauinslandreisen, Werner Lau Diving Center and Türkish
Airlines one week for 2 persons at Paradise Hondaafushi Island Resort incl. flight from/to Düsseldorf with Türkish Airlines as well as 6 days non-limit diving (incl. boat trips).
Just put your business card in our prize box. Good luck to you.
Day 6
The weekend is coming … not for us but for you. Take the opportunity and visit the Boot show. It is really worth it. Here you can get first hand information. Not only by us – also by the manufacturers, by the diving magazines, by the diving associations and various tour operators.
Our booking center is in direct neighbourhood and works out gladly complete offer for you. Combinations between Maldives island and safari trips – combinations of different hotels in Bali and around. There are so many ways to discover the world and we would love to help you.
half-time
We've already got half the Boot show. Conclusion for the last days: Egypt runs like hell. The Oasis is very well booked. We have already received many reservations and Yoga is a real plus and wins among divers and non-divers.
We offer our yoga units daily FREE of charge at the Oasis and from May 09 – 16, 2019 and from May 16 – 23, 2019 even a yoga & diving event with Tanja Hummel. Prices from 860,- EUR – an event which is not only interesting for beginners. Let us tell you more ….
Translated with www.DeepL.com/Translator
Day 2
Unbelievable this year – day 1 has already been very successful and day 2 is starting really good as well. After initial difficulties with the internet we finally managed to take a team photo.
One exibition special we needed to change already on the first day – the tour starting on 20.10.2019 was announced with 30% and was already sold on the first day, so we decided to offer another tour.
Currently the tours from 18th – 25th August 2019 and from 3rd – 10th November 2019 are reduced by 30%. Of course there are more specials and special tours as well. Just have a look at our stand or take a look at our specials.
We'll be back with the latest pictures and news during the week.