Back
MY Sheena Logbook 08. – 15.03.2020
MY Sheena – 7 days tour from Fuvamulah Gaafu Alifu Atoll to Fuvamulah
Best of the Best of the Maldives
This time we pic up our guests straight from Fuvamulah Airport.
There are 11 guest and everybody arrives on time. A big part of the group are xxl repeaters which know each other well from other great trips, fun is already insured with this group.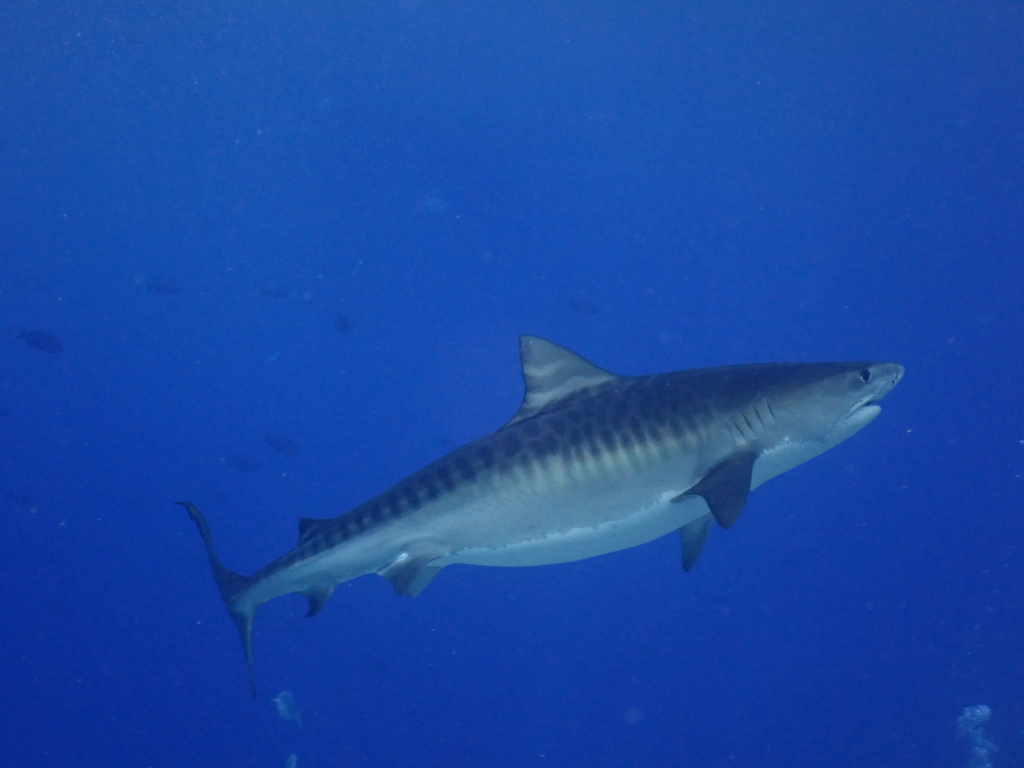 Dive 1 – Fuvamulah House Reef
Dive 2 – Fuvamulah South
Dive 3 – Tiger Zoo
The check dive was a smooth drift alongside the Harbor with a few silver tips, lobsters and a few big barracudas. The plateau later this morning surprised us with a thresher shark out in the blue next to some big barracudas.
Tiger zoo was amazing, although it has been pretty full, we could manage having our own spot where the tigers came straight towards us.
We could watch 4 tigers next to each other. The smallest one was around 2.5 meters lon, the biggest one about 4 meters.
Dive 4 – Fuvamula South
Dive 5 – Fuvamula South
Dive 6 – Tiger Zoo
We've been checking out the Plateau twice this morning. The visibility was only around 20 meters but still good. We spotted throughout the drift a tiger shark. Some of us saw a hammer head. On the last plateau dive, we could spot again one thresher shark and while we been getting back to the plateau a beautiful oceanic manta. This beauty came towards as and gave us a show which included some loops and circles. Brilliant!
Later we did the first dive at Tiger Zoo. The guests are super exited but they also worry bit. Everything works out great. We had directly 6 Tiger sharks super close and just for us. In front of the plateau we could manage to enjoy plenty of silvertips as well. Some of them also went to the feeding point of the tiger sharks and tried to grap some food as well ….
Dive 7 – Maarehaa Kandu
Dive 8 – Koodey Kandu
Dive 9 – Maarehaa Kandu
Maareha Kandu is a great channel where the edge is pretty shallow and has nice corals. The first dive we did with an incoming current and good visibility. We could manage to cross the channel through swarms of snappers and and many sharks.
We jumped Kodey Kandu with an strong incoming current in the middle of the channel. The visibility was amazing and we were able to drift along the edge for around 5 minutes until we had to hold on.
One massive grouper, about 2-meter long, as well as some big napoleons are showing up in between the swarms of fusiliers.
After watching the show, we let go and drifted towards the beautiful coral garden inside the channel.
This time Maareha Kandu had outgoing current. So we jump at the inside, still nice diving with a lot of green turtles.
Dive 10 – Maarehaa Kandu
Dive 11 – Vodamula Kandu
Dive 12 – Furana Kandu
We crossed Maareha Kandu trough loads of sharks and swarm fish. While drifting inside we could spot even an sailfish.What a great dive!
Vodamulah Kandua was amazing as well. A slow incoming current with good vis mad it possible to cross the whole big channel without problems above the edge. Loads of sharks, school of eagle rays and at the end an Mobula …
Furana Kandu was inside of the channel much better than at the edge, where we only could spot an eagle ray feeding for about 10 minutes. Inside we had lobster, 3 sting rays, a nurse shark and a school ob bumphead parrot fishes.
Dive 13 – Nilandhoo Kandu
Dive 14 – Kuredhoo Kandu
Dive 15 – Fish Factory
Nilandhoo Kandu was full of sharks! There been around 100 grey reef sharks. We could enjoy the spectacle with a nice incoming current and loads of fish.
Kuredhoo Kandu was basically the same thing as Nilandhoo Kandu, just a bit better cause of a big school of barracudas and a school of eagle rays as well as a massive amounts of turtles while drifting inside the channel.
Fish Factory was really special we asked the locals at the fish factory to throw some fish leftovers at the harbor at a set up time. Everything works and we get to see around 30 Oceanic Blacktips super close for about 40 minutes.
Dive 16 – Koodhoo Kandu
Dive 17 – Viligili Channel
The last day of the trip we finish up with two super nice dives, both with a nice incoming curent. Koodho Kandu had a pretty strong current this time, so we just drifted over to the corner where still plenty of sharks waiting for us. At the inside of the channel we could spot a school of mobulas.
The second dives current was very slow compared to the one before. We could cross very smoothly and watch again loads of sharks and a few big napoleons. While drifting inside the channel we spotted also a nurse shark and around 15 green turtles.
A perfect tour came to an end. We hopefully will see everybody of you guys again on board of MY Sheena. Till than take everybody …