Back
MY Sheena Logbook 21. – 27.04.2019
7 Day Tour – Filitheyo – Filitheyo
On this trip, we have thirteen guests on board.
Six persons are from Switzerland, four from Israel, two from France and one from Germany. More than enough to make new friends!
For three of them, it is not the first time on the Sheena. Everybody had a great connection with the rest of the group.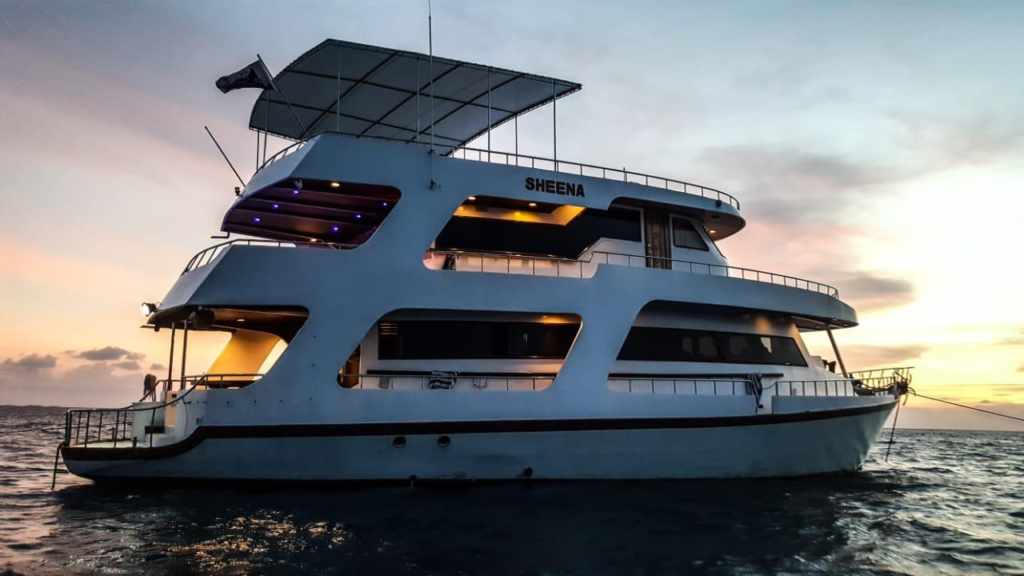 As some people are interested in more challenging dives, and others prefer to take it more relax, we could arrange , on each dive, two groups, with our two instructors.
After we finished with all the paperwork, we are getting ready for our first dive. We are doing it at Dolphin's Corner, where we saw many white tip reef sharks and a big school of red snappers.
Divespots:
21.04.2019 Dolphins Faru
22.04.2019 Filitheyo Outside / Western Highlight / White Tip Station
23.04.2019 Happy Corner / Rakeedhoo Kandu / 13 eagle ray
24.04.2019 13 eagle rays / Just like old times / Alimatha Jetty (night dive)
25.04.2019 Myaru Kandu / The Golden Wall / Fotteyo / Explorer nightdive.
26.04.2019 Fotteyo / Vataru Kandu / Western Highlight
27.04.2019 Kingdom of fish/ Little Channel South
This tour is once again full of highlights. To name only a few of them:
We start the trip heading to Meemu Atoll.
We had an amazing dive at White Tip station, where we could see many grey reef sharks, and even one silvertip shark, big tunas, eaglerays and a big school of jackfishs.
We are getting as deep in as Nitrox 32 allows us.
Happy Corner is always mind blowing with school of barracudas, Goliath Grouper, silvertip sharks and many others.
Now heading to Vaavu Atoll. In several dive sites, we get the chance to see schools of eagle rays swimming together. Which is always a beautifull show.
The massive school of barracudas in JustLike Old Times is quite impressive. They are covering most of the channel !
During the night dive at Alimatha Jetty, we have seen so many nurse sharks and whiptail rays. They were swimming around us and even between us. For sure, an unforgettable experience.
And of course we had plenty of amazing channel dives full with sharks, like in Myaru Kandu, where we could also see babies grey reef sharks.
In Fotteyo, we have our first early morning dive where we spot three Hammerheads deep down in the blue. We also found a long swimthrough, along the edge, with stunning blue soft corals on the walls.
Still in Fotteyo, we could hear the dolphins underwater, during most part of the dive. And as the sounds were getting lauder, some of us had the chance to see the group of 20 dolphins swimming below the surface.
Now back at Faafu Atoll.
In Little Channel South, we start the dive with a huge school of batfishs, who have been following us during 30 minutes, making the dive very entertaining.
A great trip goes to the end and we hopefully get all together soon.