Back
MY Sheena Logbook 28.04. – 05.05.2019
7 Tage Tour – Filitheyo – Filitheyo
With 11 guests we start this trip in Filitheyo. Four Swiss, one German couple and one Dutch woman, two guests from England and a very special visit by Werner and Lilly Lau.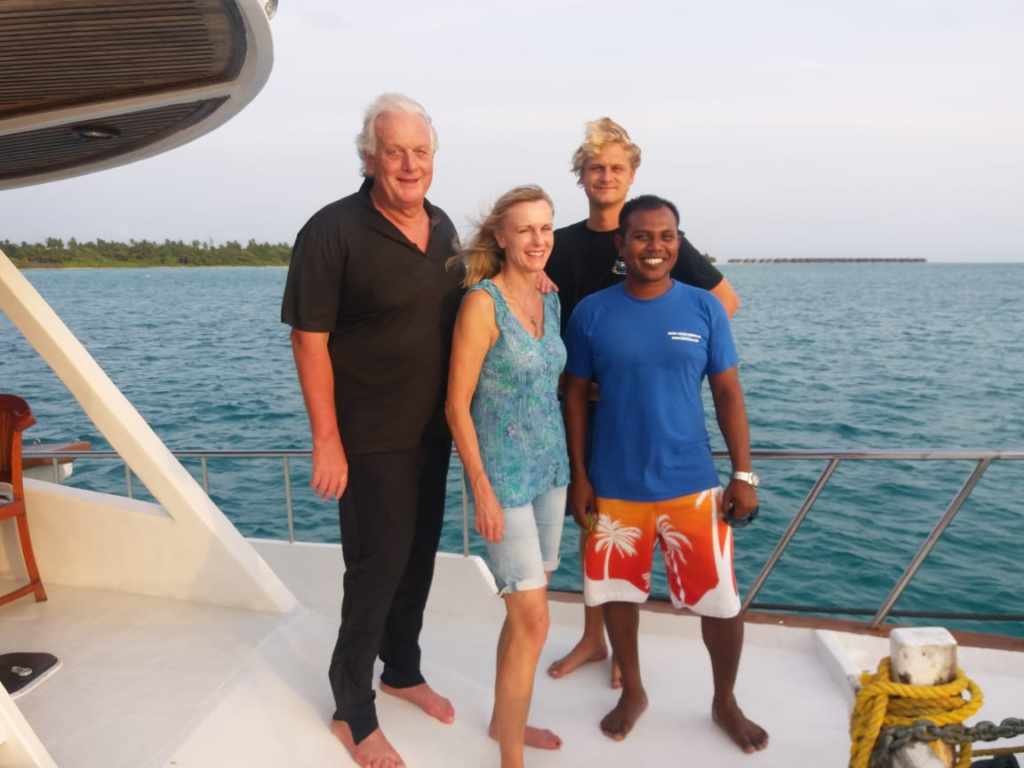 During the trip the guests had the opportunity to make more challenging dives. Werner has always preferred the canal crossings, he knows the area very well.
It was nice to have him on board and to benefit from his experience.
With two guides on board, we of course also had the opportunity to split the groups and give the opportunity to those who want to take it a little slower.
The start into the week went quite smoothly, all guests arrived almost at the same time, so everyone could eat lunch and everyone could get settled in.
Our first dive was also an Explorer Dive and we found a thila with a lot of shoal fish and many big lobsters in the canal.
Dive Spots:
29.04.2019 Explorer Dive / 13 Eagle Rays / Just like the old times
30.04.2019 13 Eagle Rays / Just like the old times / Alimatha Uthuru Kandu / Alimatha Nightdive
01.05.2019 Alimatha Uthuru Kandu/ Golden Wall / Fotteyo
02.05.2019 Fotteyo / Happy Corner / Mantas & More
03.05.2019 Mantas & More / White Tip Station / Happy Corner
04.05.2019 Happy Corner / Western Highlight
This tour is fantastic and we had a lot of highlights to offer. We had to reschedule something to avoid a storm further south in the Meemu Atoll. This was one of the reasons why we had the first super cool dive in the south of Felidhe Atoll.
We went directly north where we have our top channels, the first dive at 13 Eagle Rays was fantastic. In the deep crevice there was a school of humpback parrotfish. We made some noises with the plastic surfaces and already the first sharks appeared, even a few silvertip reef sharks were there.
At "Just like the old times" we crossed the channel and were rewarded with Napoleons, huge barracuda schools and much more.
The week was varied with many different super beautiful dives, e.g. Golden Wall, where everyone was surprised by the amazing soft coral colours.
Fotteyo we like to dive early in the morning to take the chance on hammerhead sharks. We were lucky and besides the hammerhead sharks there was also a school of underwater dolphins.
The trip was great and full of impressive, fish rich dives and we are looking forward to the next tour!