Back
Bibo's Logbook
27.05.2019 – Blog Sharm
We had a conversation about social media in our last staff meeting and Darja and Ali mentioned that it would be awesome if the guides who spend their days on the boats with our guests could write a little summary about what interesting stuff we see underwater and to share our happy moments with our happy guests.
So here we go – I said to myself "now it's time to get lucky and share my happy moments"
The next day I was on our boat "Marcus" heading to Tiran and on the way our lovely captain Talatini called me "Bibo Bibo Whaleshark!!!!"
I got super excited and I started to shout "guys whaleeeeshaaaark, get your cameras" Everyone jumped up, ran around the boat to find the best place to take a picture and make videos. Unfortunately we couldn't go in the water because we were far out in the middle of the sea and safety goes first of course.
The day after I was on our boat "Eagle Ray" heading south to Ras Mohammed Nationalpark with our captain Barakat and this day I got even luckier! We had the chance to see a guitar shark during our dive, and relaxed as it was we got to spend more than 5 minutes with it. Everyone had a close look and it seemed like the shark enjoyed being photographed from us.
This was honestly the best day and dive in my life (so far J) and as we continued our dive the guitar shark came back to us to say "hey, here you have another chance to take some pictures and enjoy my company"
The day after I started an Open Water Course and on the second day a huge green turtle joined our dive on our house reef!
As you can see, the Red Sea never disappoints!!
Take care and see you all soon hopefully,
Bibo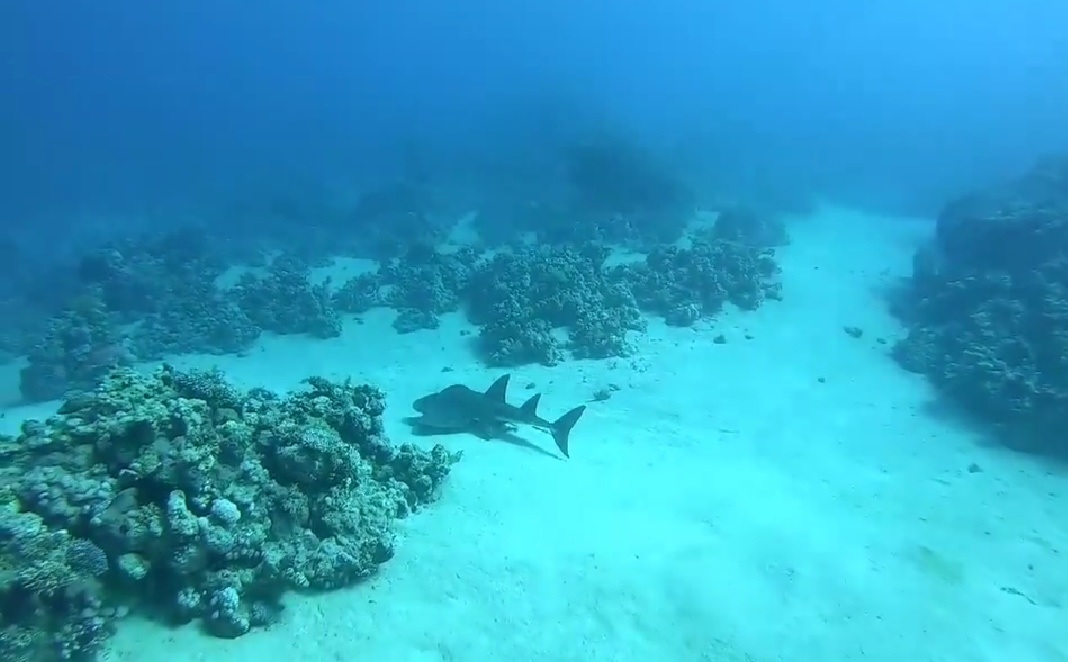 You want to stay informed? Sign up for our newsletter and we will keep you updated with our news and specials!