Back
Logbook 09. – 16.02.2020
MY Sheena – 7 days tour from Filitheyo to Gaafu Alifu Atoll (Transfer Tour)
Our guests arrive on Sunday the 9th of February, as we meet them on the island of Filitheyo we introduced them to the 4 guests who are staying on from the last tour.
After dinner on the Sheena we discuss our route and procedures on board.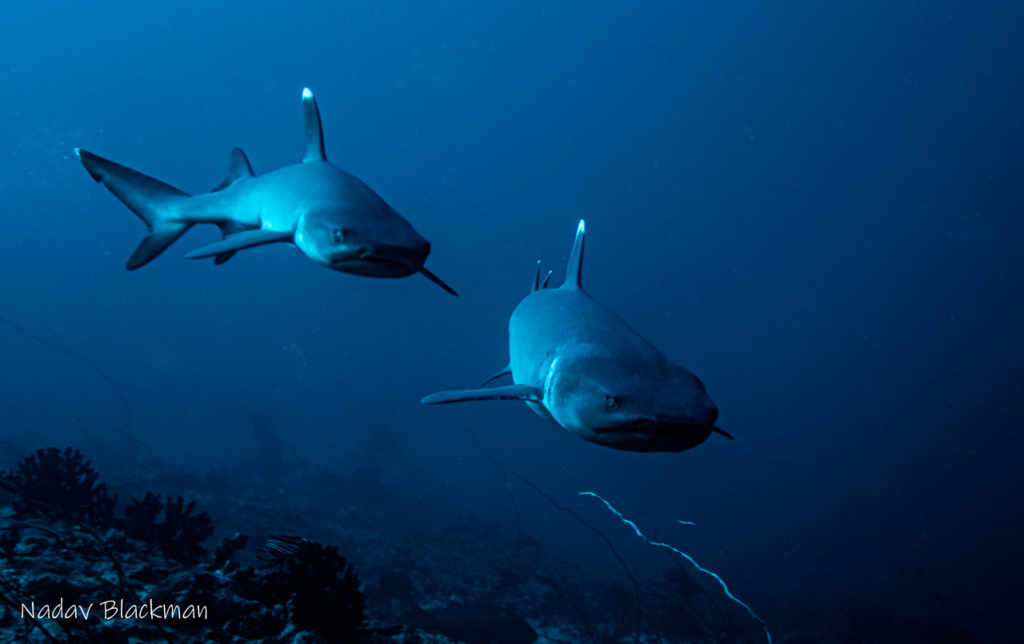 Dive 1 – One Way Ticket
Dive 2 – Western Highlight
Dive 3 – Happy Corner
We start our first diving day with a check dive on One Way Ticket the nearby faru that shelters the airport, where the sea planes land.
Afterwards we cross to Meemu atoll.
The second dive of the day is at Western Highlight.
This thilla in a large channel is abandoned in coral life. We had some small white-tips and many reef fish. A Incoming current ensures good visibility.
Our third dive of the day is at the world class channel Happy Corner.
Strong incoming current due to larger tidal changes brought us good visibility and schools of grey reef sharks.
The day ends with a visit to Digarhoo a local island, home to the captain and few more staff from the Sheena.
Dive 4 – Lucky Reef
Dive 5 – Valley of the Ray
Dive 6 – Beauty and the Beast
Dive 7 – Black beard's reef (night dive)
The day starts with dive at Lucky Reef.
This side of channel is a cleaning station form for grey reef sharks, filled with schools of Jack fish.
The second dive of the day is at Valley of the Ray.
This Manta cleaning station provided 4 manta sightings with 2 returning to the cleaning block many times.
Afterwards we make a crossing from Meemu to Thaa atoll.
Our third dive of the day is at Beauty and the Beast.
With a strong oceanic current to help us cross this channel. We see many grey reef and white-tip reef sharks as well as a large school of eagle rays pause in front of the group.
The final dive is a night dive expedition on the newly named Black beard's reef.
With great results some good macro life and a few active white-tip reef sharks.
Dive 8 – Dhugiri Kandu
Dive 9 – Jack Fish Channel
Dive 10 – Dolphin Kandu
Our day starts with a dive at Dhugiri Kandu.
The dive started with an incoming current that changed to outgoing by the very end of the dive. We dive this as a crossing, spotting sharks and some eagle ray's.
Afterwards we cross from Thaa to Laamu atoll.
The second dive of the day we do at the massive Jack Fish Channel.
Which stretches 1400m the profile of the drop off compensates for the length, allowing us to cross comfortably. Sightings include two large stingrays, many sharks and eagle rays.
Our third dive is at Dolphin Kandu.
This narrow channel was great to cross with many small white tips and some much larger grey reef sharks.
Dive 11 – Sharks and Ray's
Dive 12 – Hithadoo outside
Our day starts with a dive at Sharks and Ray's.
As the oceanic current was very mild we dropped in the centre of this channel and crossed to the corner. Great visibility gave us an amazing view of some silver tip sharks, grey reef and closely moving white-tip reef sharks. Some big Giant trevallies, rainbow runner and black jacks.
Our final dive of the day is at Hithadoo outside.
This site on the northern edge of the island of Hithadoo is a manta hotspot with some research and conservation efforts happening here. We did not see any manta at the cleaning block but rather a grey reef shark getting cleaned, white-tips hunting and a large green turtle.
Afterwards we make our very big crossing from Laamu to Gaafu Alifu atoll.
Dive 13 – Viligili Kandu
Dive 14 – Nilandhoo Kandu
Dive 15 – Maarehaa Kandu
We start our day at 1 am at night by snorkeling with 2 whale sharks.
Our first dive in Gaafu Alifu is at Viligili Kandu.
This 400m wide Channel is packed with grey reef sharks and green turtles. Medium incoming current and oceanic current with great visibility.
Our second dive of the day is at Nilandhoo Kandu.
This channel is slightly deeper and with a sloping bottom can prove challenging. We made a crossing with a mild incoming current and good visibility spotting many sharks, Jacks and barracuda.
Our final dive of the day is at Maarehaa Kandu.
We made to cross the channel with a very small incoming current and excellent visibility. We spot massive schools of grey reef sharks and a large school of eagle rays, very close encounters.
Our evening is spent on a small island for a barbecue with our guests.
Dive 16 – Maarehaa kandu
Dive 17 – Viligili Kandu
We start our day at Maarehaa Kandu.
This time with outgoing current. Fewer sharks but closer encounters as we watch them get cleaned at some cleaning stations. A pair of sleeping green turtles on the cleaning blocks surrounded by sharks and bundant macro life such as ribbon eels and paper fish.
Our final dive is at Viligili Kandu with excellent visibility and hardly any current we see scores of sharks schooling and some getting cleaned. Many turtles on this dive, all greens. As we end our dive a pod of dolphins swims by.
This brings to an end the diving portion of our tour. We would like to thank our guests and crew without whom this would not have been possible.