Diving and Holiday at the Maldives Islands
The Maldives are known as one of the most beautiful locations worldwide. They are especially popular with divers and snorkelling and that's no surprise. The crystal-clear water and the breath-taking underwater world invite to enjoy and relax. Colourful coral reefs and the great diversity are unique. As part of the Indian Ocean, the characteristic dreamy white sand beaches and palm trees are part of the specific Maldivian charm.
The island nation "Republic of the Maldives" is divided into more the thousand little islands and every one of it has its own charm and characteristics. Bathala with its intact coral reef attracts big fishes. With a bit of luck, you may see a shark or a manta ray. Bathala is surrounded by a great house reef and the top dive site "Bathala Tila" is located on its East side.
Filitheyo is one of the medium size Maldivian islands. Its house reef, with 7 entrances and 2 diveable wrecks, is one of the most spectacular dive site and is the perfect place for shore diving.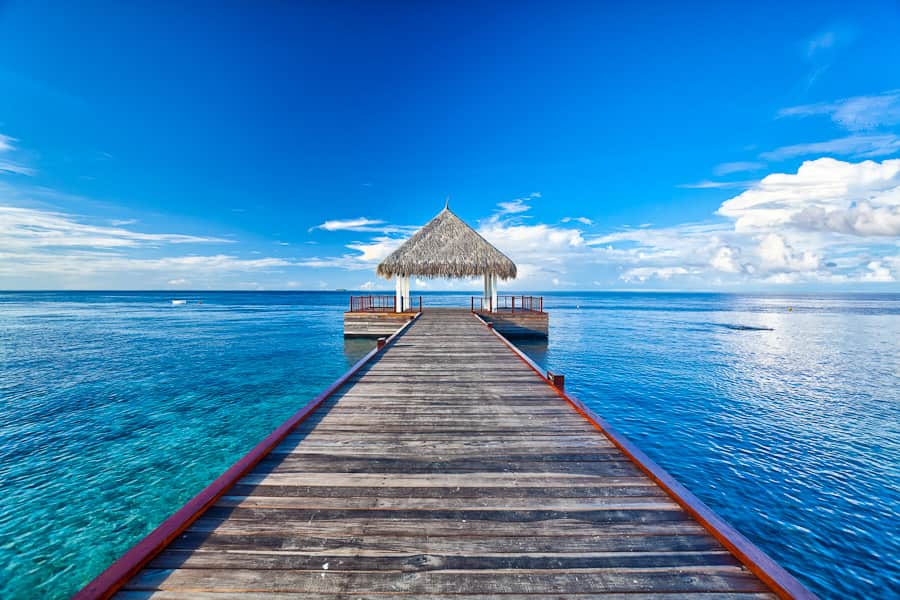 Medhufushi with its beautiful lagoon, which is perfect not only for beginners offers several spectacular channels like Mantas & More, which count amongst the top ten in the Maldives. The lagoon of Hondaafushi is one of the most beautiful in the entire Maldive. The island is known for meeting rays and sharks on untouched reefs.
Within all this beauty it's sometimes hard to decide which one it the best diving place in Maldives and where to travel. With our liveabord MY Sheena, this will no longer be a problem. Our guests enjoy diving on the most beautiful diving sites in the Maldives no matter where they are and that without losing any comfort.
No matter on which island you stay, there is always a high chance to see manta rays, whale sharks, dolphins and nearly every other kind of pelagic. Enjoy drift diving and the underwater scooter and dive with Air or Nitrox. No matter if you are beginner or an experienced diver, the Maldives will fascinate you and once been there, you will always want to come back.
Our Dive Centers take care for your needs on this adventure. Small courses and individual lessons will ease you the entry into the diving world without fears. For advanced divers, our experienced diving instructors offer a huge variety of special experiences like Nitrox courses, Scooter Diving and special dive sites.
The Maldives is our home for almost 30 years and diving there is our passion. We want to show our guests this amazing world with all its beauty and wilderness. We want to show them all the little secrets that make these islands so magical and make them love this country as much as we do.
Our Diving Centers in the Maldives: