Training & diving courses
PADI and SSI diving courses are continually on offer. The diving courses take place in small groups (1 diving instructor – 2 participants), thus avoiding stress and ensuring effective training to meet your individual needs.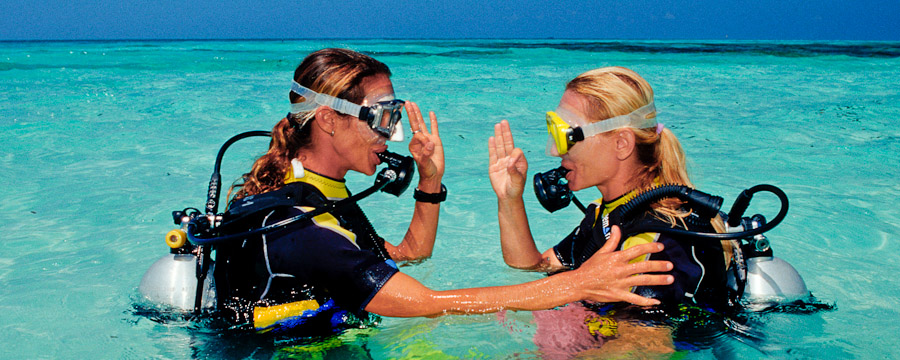 The course begins with an introductory dive in the shallow waters of the lagoon (approx 1.5 metres). During the (approx.) 1 hour try dive, students have plenty of time to get used to the wet element and "underwater breathing", always under the watchful eye of our experts. The actual training course is split up over three days. The students are in the water mornings and afternoons. They will be introduced to the basics of diving in groups of two by professional dive instructors.The last of the six training sessions will include starting out from a boat.
The theory (about 6 hours in total) will be taught over the three days between 17:30 and 19:30. After successfully completing the final theory examination, the diving student will be presented with an internationally recognised certificate (Open Water Diver – SSI). Alternatively, you may choose the PADI training programme (PADI Open Water Diver). PADI courses cannot be pre-booked.
The diving school offers advanced courses up to SSI/PADI Divemaster level. We can train and certify you in most specialized diving courses, all of them after the regulations of PADI and SSI.
At the Werner Lau dive centres on the Maldives, kids start diving at the age of 8 (maximum 2 students per instructor).
From the age of 8, children can make their first diving experiences in shallow confined open water (max. 2 m diving depth).
From 10 years old the Open Water Diver course can be booked (max. diving depth 12 m for 10-12 year olds, max. diving depth 18 m for 12-15 year olds).