Medhufushi lies to the east of the Meemu Atoll, which is 300 km south of Male. The island is 900 metres long and about 90 metres wide. There are only two tourist islands in the whole of this atoll. Medhufushi features an exceptionally beautiful lagoon which is ideal for learning to dive in, not to mention swimming, surfing and sailing. The virtually untouched dive sites, most of them suitable even for beginners, await you with a stunning diversity of corals and tropical fish.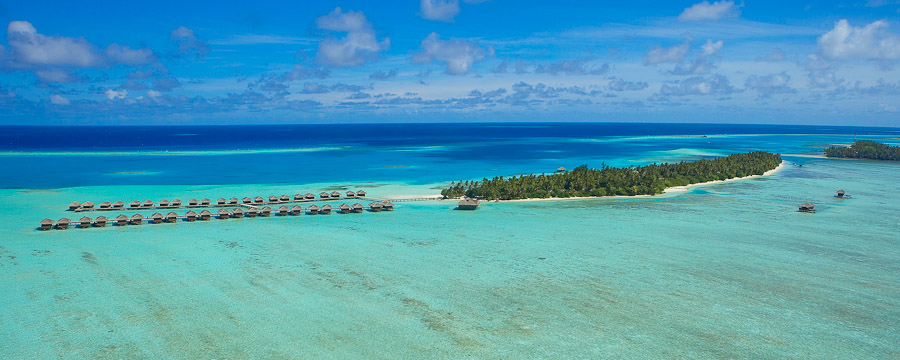 This elongated island is surrounded by dazzling white beaches and greatest care has been taken to develop it with as little disturbance as possible to the environment. You will find plenty of welcoming shade among the untouched tropical vegetation including palm trees, rubber plants, mangroves, and Scaevola trees.
The transfer from the international airport in Male is done through TMA (Trans Maldivian Airways) and takes about 40 minutes. Latest upon leaving the Air Taxi you will not longer need your shoes. Absolute barefoot feeling awaits you at Medhufushi.
The elongated island with lush vegetation surrounded is by a beautiful lagoon. It is equipped with a total of 112 bungalows – including 44 water bungalows and two Lagoon Suites. In addition to the main restaurant there is the Alfresco, an a la carte restaurant, next to the large pool. On top of the lagoon the Vilu Bar is located, where you can enjoy snacks and Cocktails while small blacktip reefsharks patrolling in the water.
Credit Cards: We accept MasterCard and Visa on Medhufushi.