On the north east coast of Bali, hidden behind coconut plantations, far away from all other tourists our Alam Anda Ocean Front Resort & Spa lies directly by the sea. Here it is possible to still find the original Bali with its culture and the typical living habits of its people.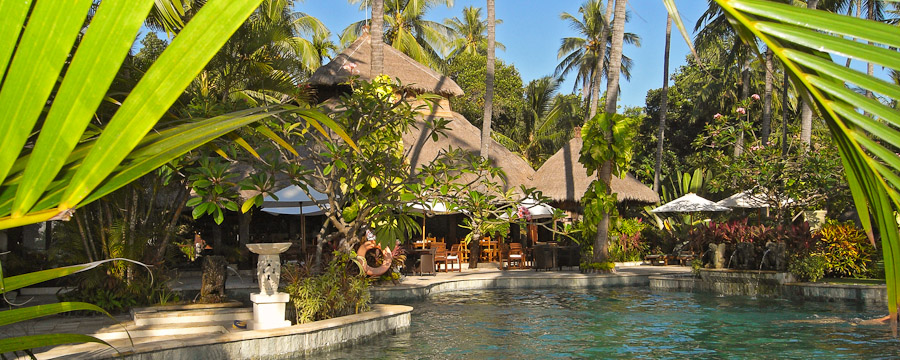 On the almost empty beaches you might occasionally meet a fisherman or children playing – but no signs of tourists. This approx. 2,25 hectare large palm garden, with hundreds of shady coconut and Lontar palm trees, Kambodjas, Eucalyptus and banana trees, is the fulfilled dream of a German architect. Wasteful space spread over this Terrain with a 420 metre long waterfront for maximum 60 guest just 21 Bungalows, 2 Losmen, 5 Villas, the Restaurant, a beautiful Spa and of course the dive centre.
Balinese Category: 4 Star
The hotel consists of nine Seaview-Bungalows, twelve Deluxe-Garden-Bungalows, two Losmen, the Villa Ambu Ambu, the two Bahari Villas, the Villa Lumba Lumba an the Villa Purnama.
General Information
The Alam Anda was built by a german architect and in 2007 it has been enlarged and modernized by Werner Lau and his crew. The hotel has been managed by Werner Lau since April 1st 2006.
Not just a new Spa, (on an area of more than 700 square metres), but also a new restaurant, a large pool, 12 deluxe garden bungalows and two junior suites have been added. Moreover the dive centre has been rebuilt and upgraded to "Lau-standard".
We are connected by a common dream – Alam Anda.
We have been in the tourist branch for almost 20 years now and have seen and experienced many things. All this experience of ours is now going into Alam Anda.
We want to offer you the perfect holiday. This is what we are working towards each day. We are looking forward to welcoming you!
Internet: free WLAN
Credit Cards accepted: Mastercard and Visa. No Travelers Cheques.