Apart from shore diving, a variety of local dive sites can be reached within a 5-30 minute boat journey.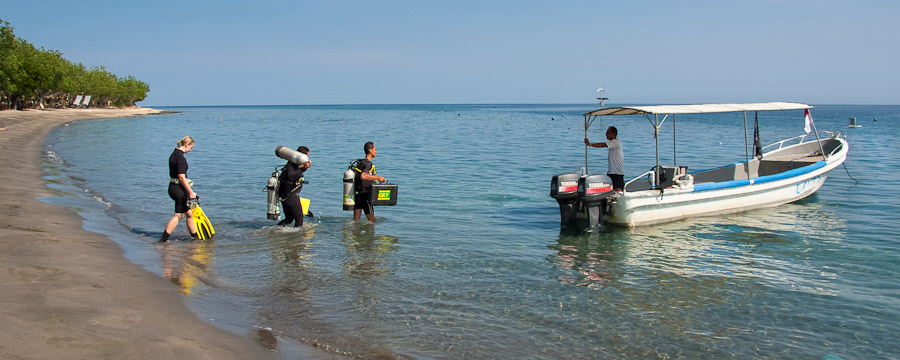 Departure for the local sites of Pemuteran occurs daily at 09:30am and 2:15pm (single tank dives); Return time is at approximately 11:00 to 11:30 am and 4:00 pm respectively.
Furthermore, we offer regular boat excursions to the legendary dive sites of Menjangan Island, where 2 dives are made. Departure time is at 08:30 am and return is at approximately 2:00 pm (weather dependant). The duration of the boat journey is between 30 – 50 minutes (once again, weather dependant).
We transfer our dive guests to Secret Bay by car in about 35 minutes, where 2 tank dives are made. The time of departure however varies, depending on tidal changes and when the site can be dived.
Depending on the number of guests, the diving guests of the Matahari Beach Resorts and Pondok Sari Resorts sometimes together.
We have 4 own Fiberglas boats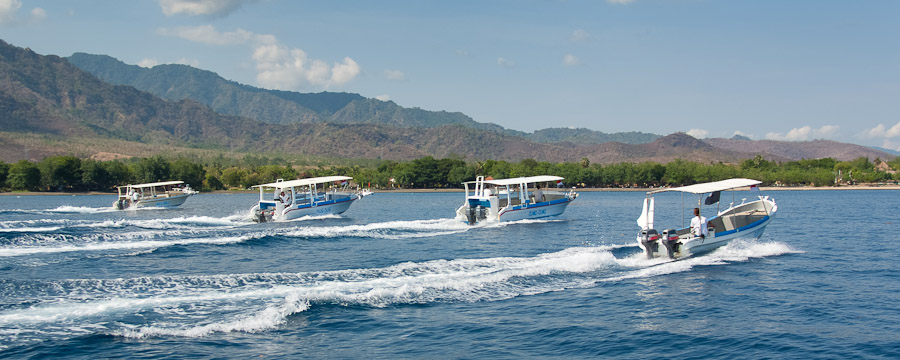 Mola mola: 11 m Length, 2,60 m Width foür 14 Divers, 2 x 115 PS
Dug Dug: 9 m Length, 2,60 m Width for 10 Divers, 2 x 115 PS
Cumi cumi: 11 m Length, 2,60 m Width for 14 Divers, 2 x 115 PS
David: 7 m Length, 2 m Width for 5 – 7 Divers, 2 x 40 PS
The boats are equipped with oxygen, a radio and an emergency first aid kit.
A doctor, whose specialities include diving medicine, and who also supervises the decompression chamber has his practise in Denpasar. (Sanglah General Hospital, Diponegoro Street).