The dive centre was built in 2004 and consists of antique wood. It is directly on the sandy beach of the Pondok Sari Resort and will be equipped – as are all Werner Lau dive centres – to cater for the special requirements and desires of the divers.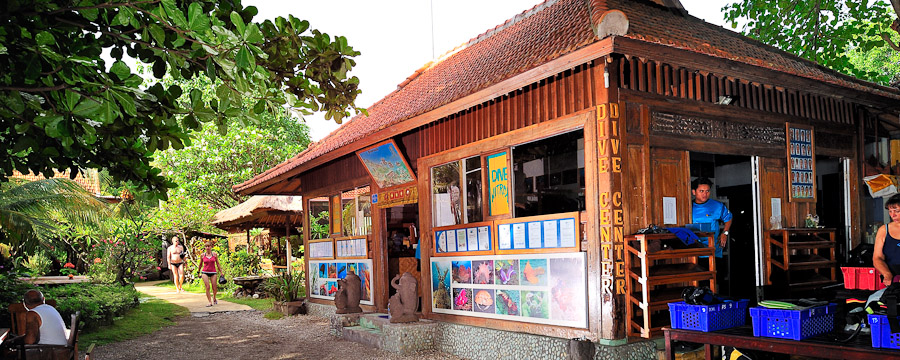 In order to meet all demands, there is always enough equipment available for hire.
30 BCD jackets
30 regulators with octopus, depth gauge and inflator
60 sets comprising of mask, fins and snorkel
30 short wetsuits (3mm shorties) and 20 long suits (3mm)
20 dive computers
10 underwater torches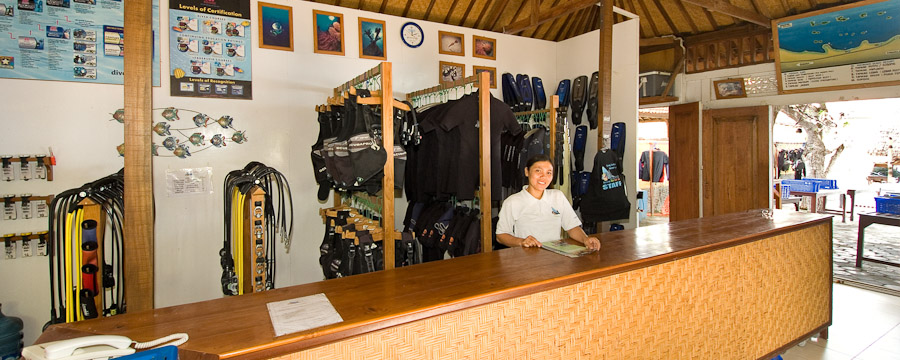 To ensure that everything runs smoothly, we have 130 aluminium tanks (12 litre, DIN + INT), 12 x 8 litre aluminium tanks available. The tanks are filled from 3 Bauer compressor.
Nitrox for free goes without saying, as at all Werner Lau dive centres. Pony tanks (3,7 l) with regulator and pressure gage can be rented.
Privately owned equipment
Both privately owned and hired equipment are kept at the dive centre.
To provide our guests with an all round service the equipment will be loaded onto the boats by members of our staff, who at the end of the trip, will also bring the equipment back, rinse everything in clear water and store all the equipment at the dive centre.
A well equipped workshop is also available for use by the guests if needed. The members of our staff are always ready to give advice or lend a helping hand.
A 66c service charge per dive is included in the bill. This service charge is equally divided at the end of each month amongst all employees, to ensure, for example, that those responsible for filling the tanks can also benefit.
The boats are equipped with oxygen, a radio and an emergency first aid kit.
A doctor, whose specialities include diving medicine, and who also supervises the decompression chamber has his practise in Denpasar. (Sanglah General Hospital, Diponegoro Street).
If you are planning sightseeing excursions during your dive holidays or after having finished diving, you should be aware that the main road to the south (Denpasar) goes via the mountains to a high altitude (1100m -1800m ); therefore diving has to be stopped 24 hours before the trip (use of dive computer is obligatory).The transfer to Denpasar takes about 4 hours. Alternatively, you can choose to travel along the road next to the sea, with a duration of up to 6 hours.
Only children above the Age of 10 are permitted on the boat trips.