Training & diving courses
Upon request an a convenient time, we offer the chance to allow newcomers to the sport a taste of the wonderful world of diving. During this dive, which lasts about 1 hour, you can experience the beautiful underwater world of the Indonesian Sea. At a depth of only 3-5 metres, it is like being in the middle of an aquarium and you can enjoy the fascinating world of the coral reef.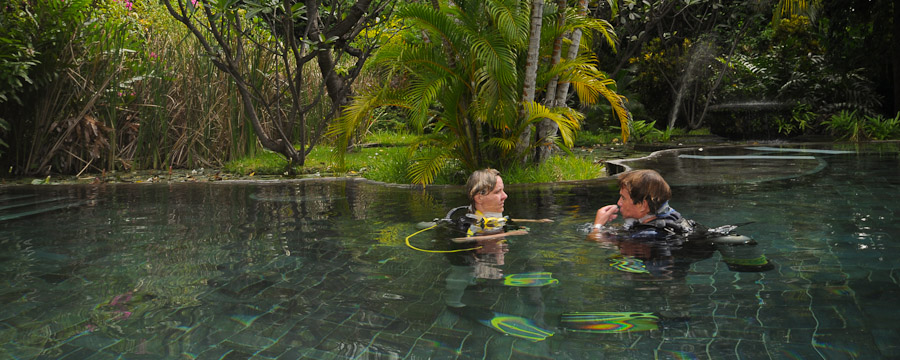 The courses take between 3-5 days (depending on the condition of the dive students). The students spend the mornings and afternoons in the water and are introduced to diving in small groups under the supervision of a qualified instructor. The last dive is made from a boat.
After passing the exam the pupil receives an internationally recognised certificate ( Open Water Diver – SSI,I.A.C. or PADI).
We offer a Junior Open Water Diver Course for children over the age of 10. Additionally we are qualified to teach and certify Adventure Advanced Course, Nitrox Course and the specialty courses Depth, Navigation, Night Divving, Buoyancy, Boat, Drift and Computer. All specialty courses will be trained and certified after the regulations of SSI, i.a.c. and PADI.
Introductory dives and courses for beginners take place at the local area, not at Menjangan island.
The beginner course is possible ongoing from 10th birthday.
The Bubble Maker course will be done in the pool, maximal depth is 2m, minimum age is 8 years.