Location & Facilities
Aldiana Cyprus is located between Limassol and Larnaca on the South East coast of Cyprus. The village of Alaminos is 4 kilometres away.
According to the saying, Goddess Aphrodite came out of the sea at this spot. But this is not the only reason why the location and the hotel itself are divine. Aldiana Cyprus is a feast for the eyes. It is built in the style typical for this country and blends in perfectly with its surroundings. Away from mass tourism and daily stress, you can take time out here.
The transfer from the airport of Larnaca takes about 30 minutes and the transfer from the airport of Paphos approximately 1.5 hours.
The hotel is spread out over an area of 78.000m² and is located directly on the beach having something on offer for everyone.
Cyprus is the perfect place for cyclists. But also different trendy sports, such as tennis, golf and fitness programmes provide sufficient diversification. There are 10 tennis courts in the hotel and 3 golf courses in the immediate vicinity. For those who prefer water sports, sailing, wake boarding, surfing or water skiing, all these are offered as well. The underwater world has everything of offer what divers wish for: wreck diving, fantastic dive sites and varied dive excursions. A diverse wellness programme, age-appropriate entertainment, international cuisine of the finest quality, and diversified theatre evenings round off the hotel´s offers.
Rural Cyprus surrounding the hotel offers a multitude of attractive possibilities for hiking and excursions. Especially in the mountains of Tróodos, there is a lot to discover: the peak of Olympos with an altitude of 1952 metres, breathtaking views, romantic mountain villages and monasteries.
Credit Cards accepted: American Express, Diners Club, MasterCard and Visa.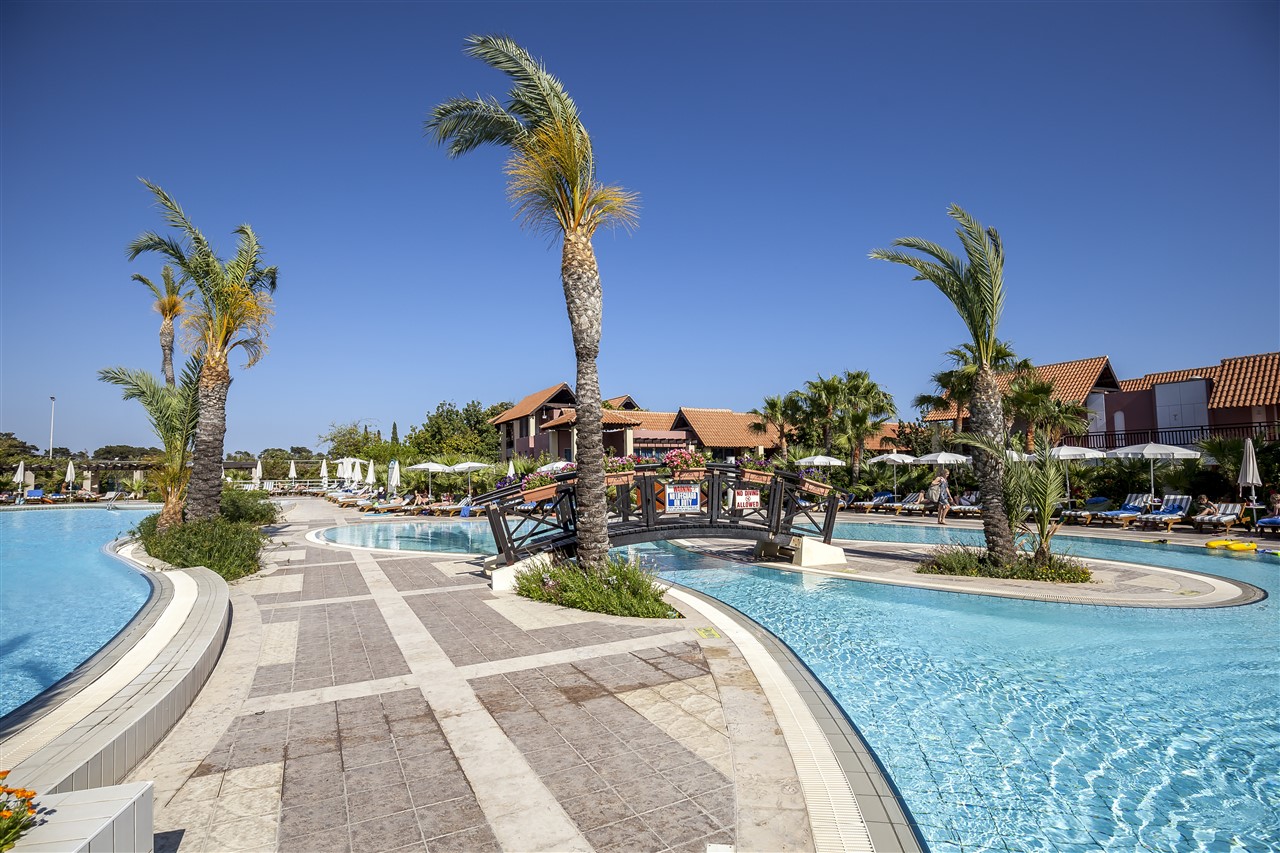 Club vacation is something for the whole family. So the kids are already cared from the age of 2 years at the Aldiana Cyprus. At certain times also Aldiana-Baby-Care for babies from 0 years is available.
In the Flipper Club are 2-3 years and 4-6 years Delfinis Flippers looked after. Daily from 9.00 am to 9:00 pm. The lunch and dinner, snacks and drinks are included.
During the German main holiday season here also special programs for children and tennies aged 7-17 years are held. In addition to tennis, swimming and fitness classes, kids can also learn diving in the Werner Lau dive centre.