The dive centre is located directly on the beach of this 270 metres long and 150 metres wide island.
The resort and the dive sites have surpassed our expectations and we are looking forward to your visit at the best Maldivian divers´ islands.
This spaciously built dive centre was designed by professionals to meet the special needs of scuba-diving. The more than generous supply of equipment is of the highest and most modern quality and standard. Among other things, the following will be available for rent:
60 jackets
30 regulators with octopus, SPG and inflator
100 sets of masks, fins and snorkels
50 wet suits (3mm shorties)
40 diving computers
10 torches
3 underwater and snorkelling cameras
As an extra special experience, we offer trips with underwater scooters, diving in a new dimension with 3 underwater scooters.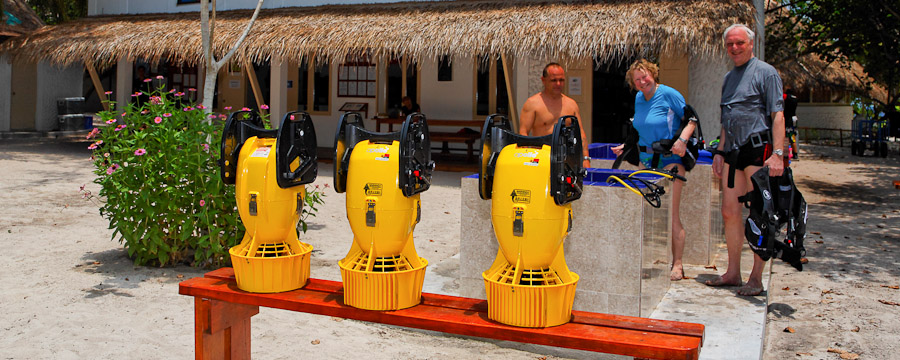 See the reef in a "different light".
With the help of Hartberger "Blue Light" lamps we encourage the fluorescence. Another type of night diving!
120 aluminium tanks with 12 litres capacity, are filled up to 215 bar by 2 electro-compressors in an external compressor house. Of course, we offer NITROX as well. We have installed a modern and secure Nitrox filling station.
DIN and INT fittings
Your personal diving gear can be stored at the dive centre. There is a wet room for this purpose, which is locked up at night.
Guests are welcome to use the fully equipped workshop at the centre. If you have any problems with your equipment, our staff will be happy to help you out.
Every boat carries an oxygen tank and a medic first aid kit, including emergency equipment and medicine for our specially trained crew to cope with any situation. If necessary, the decompression chamber in Bandos can be reached within 30 minutes by seaplane.