Drive with us into the heart of Bali.
For those people who want to experience what Bali is really like, we offer some unique off road adventure tours with buggies through, an authentic part of the island.
Our tours combine the great experience of driving your own Buggy, (or enjoying the ride while comfortably sitting next to the driver), with the opportunity to learn about the way the local people live. You will follow our experienced guides by driving between beautiful rice fields, pass the rainforest, drive up the mountain and cross some riverbeds. It doesn't matter if you have never driven a buggy before as the vehicles are user-friendly, and everybody will get a detailed instruction and practice on the spot before we start our tours.
What makes our tour unique is the fact that we reach the most hidden spots on the island where we meet the friendly locals. We mainly use small tracks which are also used by them.
The length of the tour is approx. 18km, driven in 2 hours. After the tour, an extended lunch buffet is served in our restaurant.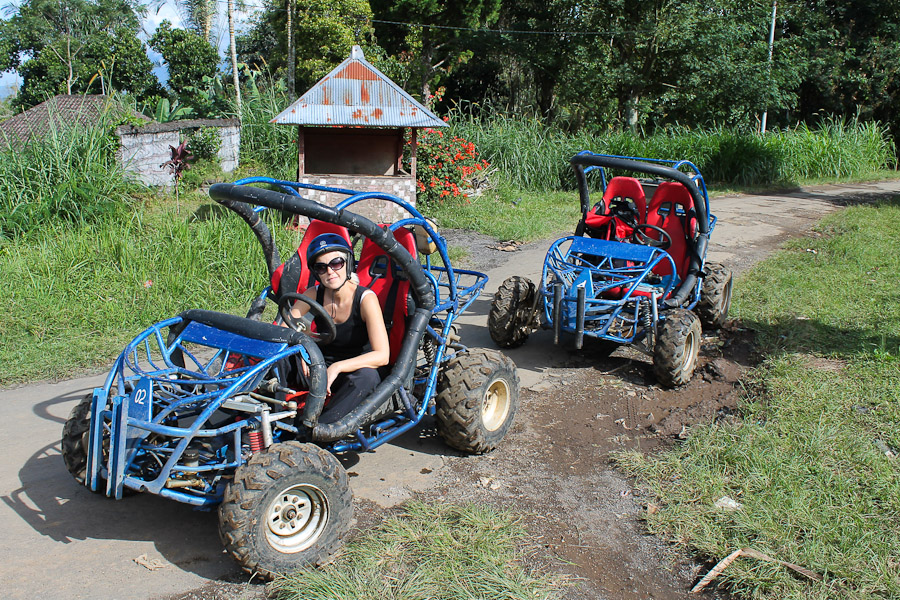 Price & duration
Departure time from Siddhartha: 07:30 am
Return to Siddhartha: approx. 6:00 am
Included: Return transfer, quad tour, guide, lunch + soft drinks, 2h Ubud tour with monkey forest.
Please note : This tour is not for beginners !!!
Items to bring: solid shoes, extra clothes, sun screen and sun glasses. Safety equipment will be provided by us.Min. age 16 years
1 Buggy for 1 participant (no co-driver)
1 person: 164.– EUR
2 persons: 149.– EUR p.P.
3 persons: 144.– EUR p.P.
4 persons: 142.– EUR p.P.
1 Buggy for 2 participants
1 person:
2 persons: 116.– EUR p.P.
3 persons:
4 persons: 109.– EUR p.P.