Further evidence of our architects' genius can be seen in our Spa's "The Six Elements" architecture. The 1500sqm area encompasses 6 single treatment areas – of which our rock spa has a particularly special ambiance and one double treatment area for couples, all of which are surrounded by water and flowers. The whole concept of total relaxation is furthermore enhanced with a foot reflexology massage area.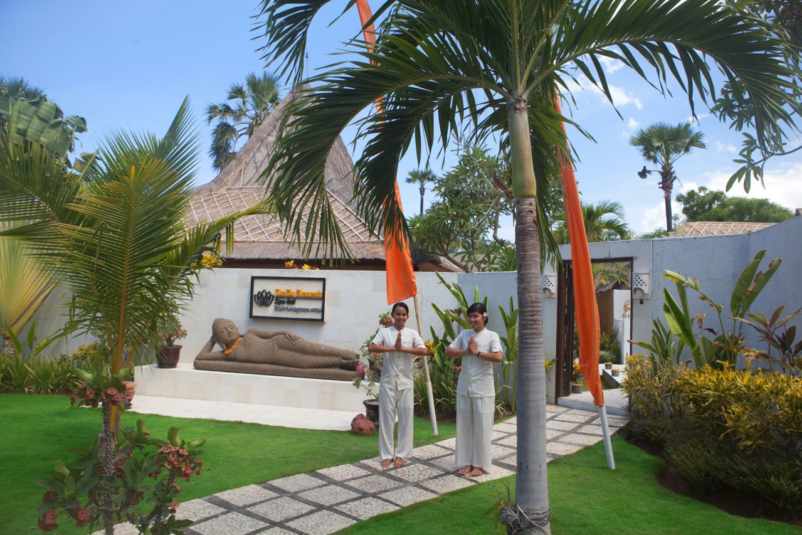 You will be advised on the various treatments available in the reception area, which also includes a small juice bar. Our trained Balinese therapists will then pamper you as you let go of your stresses within this private and luxurious atmosphere. Only natural products and massage oils of the highest quality are used for our massages, facials and body exfoliating treatments.
The essences of real blossom & sea salts are added to our relaxation baths, resulting in a pleasant aroma. For optimal results in the regeneration of body & soul, our therapists use specially chosen ingredients, whether stimulating or relaxing, cleansing or nurturing, to fulfil your individual desires. Our treatments include those used in Java, Bali, Thailand as well as some special techniques used in Sumatra & Borneo (Kalimantan).
Spa Guide & Prices
More detailed information about our spa packages, exfoliations, facials, including the oils used & their effects, can be found in our Spa- Guide.
Make a reservation for your own personal Spa programme or obtain further information at our Spa reception, after your arrival at the hotel.